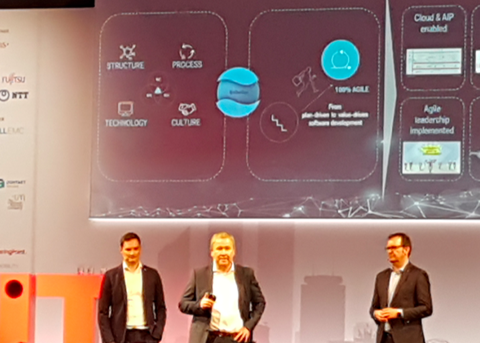 BERLIN – BMW is moving full steam ahead with a company-wide project to embed agile development in all processes involving corporate IT.
CIO Klaus Straub told the automotiveIT Congress here that the Munich-based premium car group has set an ambitious goal of 50 new software releases every day and no downtime in systems at all.
To achieve this, BMW is relying on so-called feature teams that work either on their own or in cooperation with external partners.
The company wants to handle more than 50 percent of all projects internally.
Straub justified the need for speed by pointing to new competition to the traditional auto industry. "New competitors are not necessarily Porsche or Audi or even Tesla," he said. "They are companies such as Google or Microsoft, which are encroaching on our business. And, he noted, these new competitors are "100 percent agile."
Straub was accompanied by two BMW colleagues at the automotiveIT Congress.
Ralf Waltram, vice president IT systems research & development, explained how, using agile methodologies, BMW built eight domains for products, together with the carmaker's business departments.
And Daniel Motus, product owner design & virtual product experience, described how his team, working on the interior of the new 1 Series BMW, had used a combination of mixed and virtual reality.
"We're not just using classic industry software anymore, but are deploying innovative technologies like the ones that are used by the gaming industry," he said.
Motus explained that the use of open-source software also allows IT executives to quickly change strategy when a particular approach doesn't work.