Ford Motor is selling Canvas as the carmaker reassesses the business case for vehicle subscription services.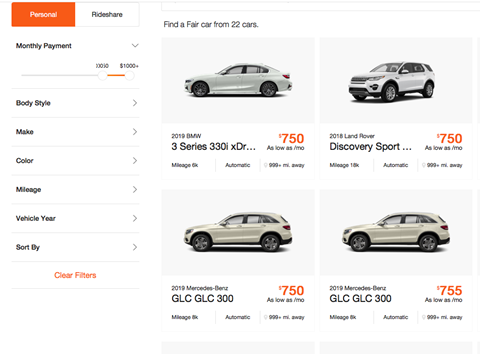 Canvas, which was called Breeze when Ford bought it in late 2016, is being acquired by Fair, a Santa Monica, California, company that runs an app-based vehicle subscription model for pre-owned cars.
"Canvas has built innovative subscription products that are relevant to consumers today, and like Fair, has opened up new ways for consumers to gain access to mobility," Georg Bauer, co-founder and chairman of Fair, said in a statement. "This acquisition underscores our shared commitment to providing consumers with the car they want on their own terms."
Several carmakers, including Mercedes-Benz, BMW, Volvo Cars and Porsche, are experimenting with subscriptions, which offer customers the option to try different models without having to make a big financial purchase commitment.
For the automakers, subscriptions offer a new form of recurring revenue, but they also involve greater logistical costs. The jury is out whether subscriptions are a profitable business for car manufacturers.
Canvas has provided cars for around 3,800 subscribers in San Francisco, Los Angeles and Dallas since it started operations as part of Ford in 2017.
In a press release, Ford said it had gained valuable insights from its investment in the company.
"Canvas built an impressive business," said Sam Smith, executive vice president of Strategy and Future Products at Ford's finance arm, Ford Credit. "We learned a lot about subscription services, fleet management and the technology that underlies both,"