Ford Motor is operating six collaborative robots in the paintshop of its Cologne plant, as it attempts to improve manufacturing processes for its Ford Fiesta model.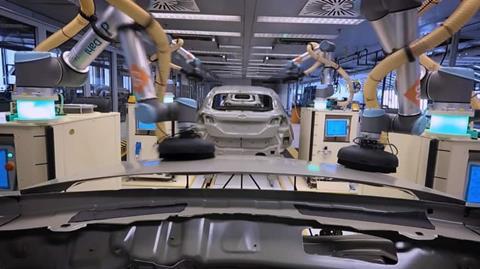 The carmaker said it is the first time a team of so-called 'cobots,' working alongside human engineers are used in the paintshop.
The cobots sand Fiesta bodies in 35 seconds, which alllows human employees to work on more complex tasks, while helping them avoid repetitive work routines.
And the robots can do certain things better than humans. "The cobots can feel when more force needs to be applied, just like we can, and they can more easily get to hard-to-reach places, like the center of the roof," said Dennis Kuhn, a senior manufacturing engineer responsible for paint shop technologies at Ford of Europe.
The cobots are UR10 models made by Universal Robots, which also supplies the technology to other industries.
Ford said its cobots collaborate with human employees, for example on work that is done on the cars after they have gone through anti-corrosion protection.
Small, difficult-to-spot flecks can then remain on the surface.These can can be felt by hand and could impact the final finish of the vehicle. The six cobots smooth away these inconsistencies and vacuum any dust left behind. Final checks are completed by two employees.
Ford cited special challenges in Introducing the technology on a moving production line for a multi-contoured vehicle.
"It took several weeks to install the cobots and program them to move in harmony to smooth the unique contours of a Ford Fiesta," said Detlev Dahl, CEO of Dahl Automation, the systems integrator that managed the installation.
Ford said it may also roll out cobots at its plants in Valencia, Spain, and Craiova, Romania.