Volkswagen, BMW, Daimler, Ford and GM have upped the ante on electrification programmes. The incumbents are joined by China based start-ups Byton, Nio and Rivian and others.
At the Detroit Motor Show, Volkswagen announced a new $800 million EV plant in Tennessee. Meanwhile, GM intends to revitalise the Cadillac brand to carry the EV torch into the US. Tesla shares fell back on the news.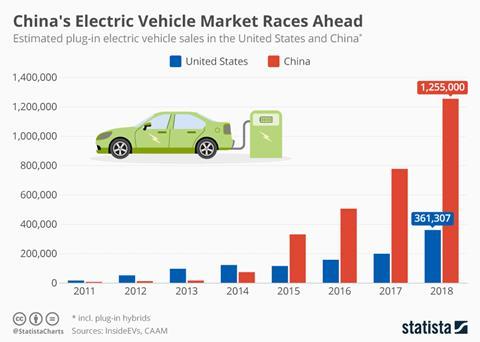 Ford and Volkswagen clarified a much-trailed alliance which will concentrate on trucks initially, but is likely to involve knowledge and platform sharing for EVs.
Elon Musk's Tesla has broken ground on a new factory in Shanghai, with a vow to open within a year.
It feels like momentum is gaining for EV, even if some doubts are creeping in on autonomous vehicles.
At the Consumer Electronics Show (CES) last week, exhibitors played down the imminent arrival of Level 5 capability
.
Some suggested that a fully-autonomous car may never be possible.
Meanwhile, the search for technology to charge vehicles on the move continues. Volvo's venture capital arm this week announced an investment in Momentum Dynamics.
The company specialises in wireless, inductive charging systems.
It has conducted pilots in Europe and North America with both fleets and vehicle manufacturers
.
In-road wireless charging
is seen
as the Holy Grail of electrification, meaning users would not have to plug in stationary vehicles
.
Per Adamsson, vice-president at Volvo Group Venture Capital said Momentum could
transmit
electricity
safely
"through air, water and ice".
Volvo is on a roll after an uncertain period. It set a new global sales record, breaking the 600,000 sales milestone for the first time since the company
was founded
in 1927
.
The company's sales rose 12.4 per cent to 642,253 cars in 2018.