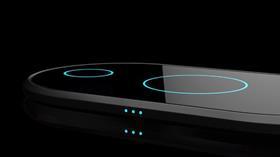 Faurecia has made an investment in Silicon Valley start-up PowerSphyr, a provider of wireless charging solutions that can be applied to many types of electronic devices as well as sensors and actuators. These will augment Faurecia's Cockpit of the Future suite of technologies.
PowerSphyr's solutions use magnetic inductive (Qi) and magnetic resonant wireless power delivery for near- and far-field charging, and are provided for mobile phones, wearables, medical devices and industrial sensors. The company is based in Danville, California.
PowerSphyr's co-founder, CEO and board chairman, Neil L. Ganz, said in a statement: "Faurecia's innovative approach to product design and development, when coupled with PowerSphyr's wireless power expertise, will deliver a revolutionary user experience and enable innovations that will drive novel power delivery designs for passengers' handheld devices, automotive sensors, and actuators. We are excited to take our relationship with Faurecia to the next level and are ready to enable the innovative, elegant and easy to use wireless charging experience that automotive customers have wanted for years."
David Weill, VP for marketing and business development, Faurecia Interiors, said in a separate statement: "The best-in-class wireless solutions developed by PowerSphyr are crucial to enhance the user connectivity experience inside the next generation of Cockpit. The synergies that exist between PowerSphyr, Parrot Automotive and Coagent Electronics will make our offering more relevant for our customers and will enable us to propose complete, smart, seamless connectivity and infotainment solutions into the vehicle."
Faurecia, a Paris-based supplier of automotive interiors and cockpit technology, has a shareholding and partnership with Parrot Automotive. The company took a majority stake in Chinese firm Coagent Electronics last year to form a joint venture. Its Faurecia Ventures division has made the investment in Powersphyr; this business unit acts as an incubator, supporting and investing in start-ups with relevant technologies.
Faurecia's VP for industrial design, Andreas Wlasak, explained to AutoIT's sister publication Car Design News last year that such a strategy facilitates the introduction of technologies from consumer electronics into the automotive sector: "We have a very large, wide network of very different types of partner. We have partnerships with very big companies and experts in their field, like the ones we talk about openly such as ZF for safety systems, or Mahle," he said.
Wlasak added that Faurecia integrates these companies' knowledge and their parts but also invests in start-up companies that are providing specific technologies.
"We have joint ventures, and we have invested in companies that come from the digital world like Parrot, or Coagent in China, which are allowing us to enter into the world of software and all the real HMI intelligence," he said. "That allows us to go far beyond in terms of connectivity, and integrate a use scenario that happens already outside the vehicle."
-Farah Alkhalisi
(Editor's note: Faurecia CIO Rene Deist is one of the speakers at the automotiveIT International conference in Atlanta. For more information, please go to: www.automotiveITconference.com)