For the first time ever, Daimler CIO Jan Brecht and his namesake Michael Brecht, chairman of the company's general works council and deputy supervisory board chairman, are sitting down together to speak with automotiveIT about the consequences of the digital transformation at the Stuttgart-based automaker. Whether the issue is employees' "digital readiness," complexity management or new platform-supported business models, Daimler is making its way through rough terrain.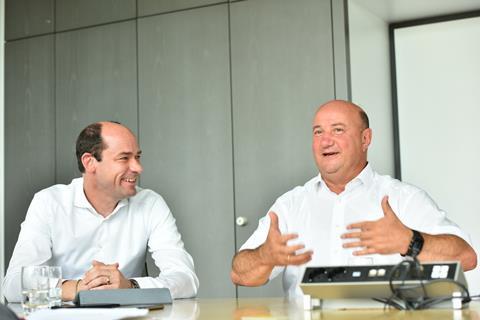 Gentlemen, the first question goes to you both: When did you last find yourself facing a phenomenon in your workplace that you could clearly assign to the digital transformation? And what did it involve?
Michael Brecht: It was just a short while ago that we were introducing our social intranet. During a reverse mentoring process, a younger female colleague showed me its functions and how I was supposed to operate them. The 10 individual hours of the process felt a little like school. There was even homework… but everything worked great. I've had a twitter account since May and my young team is introducing me to the material step-by-step and urging me to regularly post tweets. It is now totally natural for me to publish short tweets on the most important events of the week and share highlights with my community.
Jan Brecht: I want to deliberately give you a non-technical example: Last week, I met with my project team and I could no longer clearly say which participants came from IT and which came from the operating areas. They had all fully internalized agile work methods. That means the team is continually delivering small but complete functionalities, so-called increments, and is improving them in later iterations. This is totally unlike the waterfall model that produces a complex system after a long planning, testing and implementation phases, and the system often turns out to be error-prone. In fact, one team member at the meeting could not even grasp the "waterfall" concept. I thought that was great.
As a member of the works council, how do you assess the impact that the digital transformation has made on Daimler so far. Do the experiences tend to be mainly positive or negative?
Michael Brecht:You can find both within the company. When we look at manufacturing logistics, we hardly see forklift traffic anymore. Thanks to highly automated systems, the material feed system in the assembly area operates without human assistance. Some activities that operators once performed have been eliminated and have not been replaced. But in the past, with rising production volumes, we've always managed to cushion these effects and have been able to offer the affected employees alternative positions.
The example of forklift drivers is cited again and again…
Michael Brecht:…which doesn't make it any less positive. But I know what you mean. Of course, entire job descriptions don't always disappear immediately when there is automation and digitalization. but the type of activity changes. And that is true all along the value creation chain. We are currently deep in talks on what the effects would be from an end-to-end process digitalization in the development area, where umpteen thousand highly qualified engineers work. On the one hand, digital mockups are displacing manual precision work. On the other hand, we can now develop three-dimensional data models with an even greater sense of purpose and test more of them.
Jan Brecht: Precisely. Thanks to artificial intelligence and the use of chatbots in the office area, we are seeing a powerful transformation of standardized tasks like those performed day-in and day-out at the Mercedes-Benz Customer Assistance Center in Maastricht. Meanwhile, many new opportunities are arising because each use case depends on an extremely well maintained and curated database. I see opportunities for more employment in this area.
At the same time, there is a wide-ranging recognition that companies will replace thousands of workers with AI at some point. You don't share this assessment?
Michael Brecht: We have not yet investigated our processes and workflows in detail to determine whether and to what extent AI will have an impact on the number of employees. Our works council and executives are now discussing an internal digitalization study that focuses on indirect areas in particular. Make no mistake: We will certainly continue to see rationalization and automation, just as we have over the last 40 years. But so far, over the course of history, machines have always generated more jobs than they have replaced. Furthermore, we can't escape these trends. We should simply do everything we can to shape them.
Jan Brecht: Even the computer was once a source of workplace anxiety. Today we appreciate it as an omnipresent tool. The number of employees in IT is growing because, on the one hand, we are bringing parts of the value creation back into the company with the help of targeted in-sourcing. In turn, this is putting us back into control. On the other hand, we are taking administrative IT activities and converting them into direct technological, value-creating jobs, increasing our vertical integration and reducing costs. We not only need to steadily develop personally – our technologies and methods of collaboration have to progress as well.
Michael Brecht: That's right. We need rational methods and processes supported by information technology. Otherwise the immense, ever-expanding complexity of the product portfolio will explode at some point.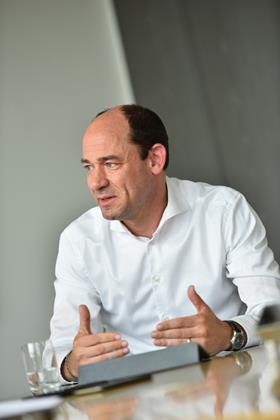 How well-prepared do you think the company is on the IT side to cope with the digital challenges expected in the medium term? In what exact areas do you expect relatively large distortions?
Jan Brecht: Based on cross-comparisons with our industrial competitors and partners, we are certainly well-positioned. But it's also true that we can always improve. Some young companies aren't even familiar with the years-long product cycles or waterfall projects. They were agile and operating with a digital mindset right from the start – habits that we had to learn at first. So it's important to me that we not only look at transformation from a technical angle. We need to keep the data, the processes and the people who work with them in mind.
Michael Brecht:In my view, Daimler employees are still not prepared for the coming major rupture organizationally, culturally and technically. "Digital readiness" must be enabled and supported on all levels – on the assembly line and at the management level. Jan Brecht and I plan to team up to gather suggestions at a number of universities. In the end, you need a clearly defined route to your destination, and we would like to point the whole organization toward it. One requirement is a fast rate of change, and we are making adjustments to meet this demand. In some areas, Daimler is still too aligned with the lifecycle of its vehicles. In the auto industry, that has traditionally been about seven years. But the cycles that we need today are much shorter. We have to communicate that.
You've already addressed this: Aside from the technical equipment, it is individual job descriptions that are changing. Are HR planning and needs assessment prepared for these changes at Daimler?
Michael Brecht: Plans are only as good as you want them to be. In the end, there's always a certain lack of precision, and you have to live with it. For example, if a decision is made to launch a new vehicle project or to invest in a new technology, Daimler's HR planning is effective and precise. But in fast-paced times like those we live in today, it is an impossibility to have all the competencies available. It is not reasonable from an economic standpoint, especially with challenges looming as they are right now.
To what extent will digitalization influence and change Daimler's corporate strategy and its individual business models?
Jan Brecht: This has many aspects. For example, software elements are increasingly migrating into vehicles. In the future, we will create a software architecture – we are working on it already – and shape the sheet metal around it. There is also great potential in mobility services that can be used across platforms. We know that 70 percent of the planet's population will live in urban areas by the year 2030. The classic one-to-one ratio between vehicle and owner seems to be rather improbable in that scenario. We are providing answers to deal with each of these developments.
Michael Brecht: But let's not just think in terms of goals…As a company we already have plenty of experience with change. We've shown again and again that people need the right mindset if they are put into a position to deal with change processes. Technical training requires a cultural foundation to stand on. Otherwise, it won't take hold. Frankly, I don't give any thought to whether we are ultimately going to be able to find qualified data analysts. My concern is whether employees understand what is happening around them, that existing distances are being shortened. They should understand that we shouldn't be crippled by fears of fast-paced change.
Jan Brecht:That's why IT launched a program called TwiceAsFast Certified for all managers. We want to provide in-depth training on the cultural, methodological and technological aspects of the digital transformation. At the start, we use an exam to check basic knowledge. This is followed by 10 weeks of training and then another exam at the conclusion. The graduates are expected to bring their newly gained knowledge out into the entire organization and multiply it.
The company has decided to restructure its corporate organization, a move that involves the spinoff of two subsidiaries, Mercedes-Benz AG and Daimler Truck AG. This is expected to consume more than 600 million euros. Wouldn't it have been better to spend the money on the digital transformation?
Jan Brecht.I'm not familiar with that figure. We want to use Project Future to make the company more agile. The new approach to our divisions is leading to smaller units – they can act more independently and flexibly and enter into technological collaborations and partnerships more quickly, for example. I see Project Future as part of Daimler's transformation – not as competition for digitalization budgets
Michael Brecht: If the new corporate structure leads to greater entrepreneurial freedom in the divisions, as is desired, and secures the future of the entire company, I believe the money is well spent. The message to employees is important: Project Future is not a streamlining or job-cutting program to reduce costs. On the contrary, with the works agreement for Project Future, we've managed to create a balance of interests that is unique in Germany. By securing employment through the end of 2029, we are keeping jobs in Germany. And since we have negotiated a voice in the matter of vertical integration, we have an opportunity, for the first time, to be part of the discussion on in-house and outside sourcing.
Although CIO Jan Brecht is well-known as an advocate of radical streamlining, complexity is growing within the company – at the organizational level, in the range of models and in the company's projects – and this is even felt in the workplace. What is going wrong?
Jan Brecht: Just a moment. Nothing is going wrong. A wide range of products is the foundation for our success in the market. A large share of the complexity is now driven by regulation. That makes it all the more important to radically simplify superfluous complexity where we see the opportunity. To me, that is a crucial element of the digital transformation. It must not be a matter of sugarcoating complexity with technology and then cementing it into place.We have to continually ask how processes should run and what special arrangements we are prepared to permit. The leaner we can operate, the faster we will be.
Michael Brecht: I hear what you're saying… When I look at what we have undertaken as a company and when I add my work experience over the last few decades, I would be lucky if we were able to master the growing complexity with a well-functioning IT.
Jan Brecht:…which, in my view, is one more good reason to energetically resist complexity anywhere it doesn't make sense.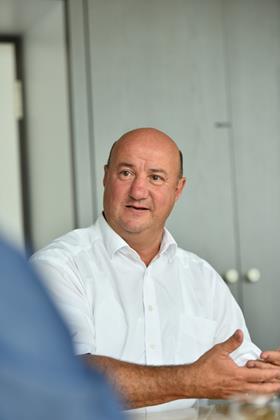 On the topic of agility: What are your managers telling you, for example, when they have to leave their beloved corner offices behind as part of a DevOps approach and suddenly find themselves back in an open-plan office. Just how thrilled are the team members to see their boss's desk abutting their own workspaces?
Jan Brecht: Of course, there are major concerns before these kinds of moves, and perhaps personal sensitivities persist during the first week. But in the vast majority of cases, most employees come out in favor of the new office environment without reservation. Specifically, because it strengthens the collaboration in mixed teams on a continuing basis. Incidentally, we put considerable value on the employee's ability to actively shape the structure, setup, and the individualized positioning of the furniture. It all has to come together if you want a productive work environment.
Michael Brecht: That's right. But the programs must not be driven by concerns over space optimization. If there are suddenly 20 percent fewer workspaces in the office and employees have to share a desk with colleagues from other areas with whom they don't even collaborate, discussions will flare up – and with good reason. I know of cases where, after a successful office reconfiguration, employees sat back down in their original spots…that kind of thing reduces the principles of interactive office work to an absurdity
In your opinion, to what extent does the future viability of the company depend on a successful digital transformation?
Michael Brecht: From now on, we are going to develop, produce and operate our products and services with digital tools to a high degree. This involves platforms, the networked mobility of the future and customized solutions that go far beyond the automobile, our core product today. In a nutshell, I believe the key question is whether Daimler will still be in business independently during the rapid transformation of the mobility sector or not. That's how important digitalization is to us.
Jan Brecht: Digitalization is too often interpreted in a way that is purely technical. At its core, however, it involves an extremely systematic orientation of the business model at the customer's end. We should consolidate all the forces available within the company to reach this goal.