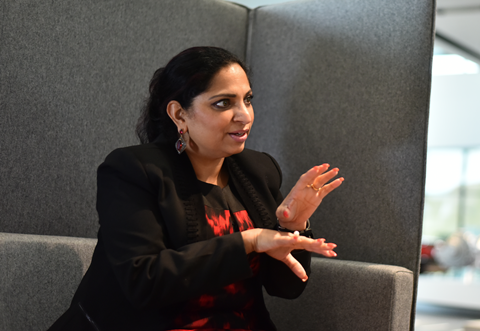 At ZF Friedrichshafen, digitization has a huge influence on the business. In an interview, Chief Digital Officer Mamatha Chamarthi describes the fast pace of cultural change and outlines the close interplay with corporate IT. The stated goal: ZF, one of the world's biggest automotive suppliers, will increasingly take responsibility for software and system integration – and not just in the auto industry.
Ms. Chamarthi, before you became the CDO at ZF, you were the CIO at TRW Automotive. What are the differences between these two positions?
There are actually many commonalities between CDOs and CIOs and just a few differences. Both are basically enablers of a company strategy. The CIO focuses very heavily on the everyday business and makes sure that the systems of a multibillion-euro company like ZF are functioning every day.
Your job description says that you are supposed to orchestrate all the digitization initiatives and seek out cross-division synergies. What does that mean in your daily work?
I can basically be called the "digital-transformer-in-chief" at ZF. At the same time, my job is to build a solid bridge to software talent in India, where I am supporting our newly created tech center. Those are the two main goals for the CDO at ZF.
My position is organized in an L-shape: On the horizontal level, I look at all the existing products, services and business processes of all the company units at ZF in order to transform them digitally. The next step is to establish recurring projects such as predictive maintenance, remote diagnostics and over-the-air updates for other areas on a platform basis as well, so each unit does not have to build certain digital technologies on its own, and ZF in turn saves money on reinvestment.
That certainly requires a fundamental cultural change within the company. Do you have time for such a fundamental transformational process?
Our technology center in India is a good example of our speed. It was just eight months between its conception and its opening. In the process, we benefited from the experience of other suppliers such as Bosch and Continental, who have had a considerably longer presence in India.
In an interview with automotiveIT, ZF CIO Juergen Sturm said that digitization turns IT into a strategic enabler. What are the areas where you can work with Sturm as a team?
You can easily see how the interplay between the CDO and the CIO works if you look at predictive maintenance as an example. In terms of the technology, predictive maintenance involves learning everything about the condition of our components and being able to respond proactively, whether they are in a car or a wind turbine. It takes a great deal of infrastructure to be able to generate a platform based on this principle, and the CIO is responsible for it.
And the CIO comes into play in the next stage as well: The platform must be constructed in such a way that others can use its programming interfaces for a range of applications. Here Juergen and I work hand-in-hand. That's why we call ourselves the "digital twins." In the final step, you have to consider how a business model can be created from the digital technology for predictive maintenance. The old principle that you only need to manufacture a product and then sell it once is out of date. As CDO, I can try things out and incubate new business models without distracting the company's divisions from their core business. That is the vertical nature of the CDO organization.
At the CES in Las Vegas in January, ZF displayed a wide-ranging portfolio of new mobility technologies and services and announced partnerships with the IT industry. Does your company now intend to sit at the pinnacle of the digital value creation chain?
We have built up more than 100 years of experience and knowledge related to the mechanical components that we manufacture today. In a world increasingly shaped by software, we have to bring this technical knowledge to the attention of high-tech companies and consolidate it. Companies such as Panasonic, Samsung and even our partner Nvidia have shown over the last few years that they also have capabilities in the automotive sector. By working with these players, we can build a partnership-based ecosystem that combines the expertise of both industrial fields.
Will ZF position itself even more strongly as a supplier of software products and services?
Yes, absolutely. The cars of today have more than 100 million lines of code, 10 times as many as in in airliner. And with the growth of software-based features, the number will increase many times over in the next few years. Many of these functions will also be available on demand, which is why connections to the cloud will play an increasingly important role. Partnerships with IT players are thus vital because they have the necessary agility for software development. While product lifecycles of seven to eight years are normal in the mechanical world, we are talking about a mere matter of months for software.