The French carmaker's IT chief, Frederic Vincent, will be part of Renault's Executive Committee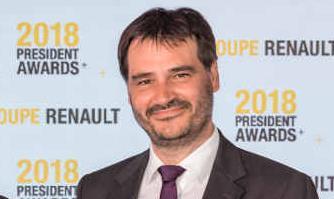 The promotion will be effective April 1, as part of a broad management restructuring following the appointment of a new CEO, Thierry Bollore.
Vincent will continue in his roles as head of the group's digital factory - Renault Digital - and the company's Information Systems and Transformation division. In the latter role, he is in charge of the digital transformation of the car group.
The CIO, who joined Renault in 2016 after 20 years in the television industry, said in an interview with automotiveIT late last year that the combination of responsibilities - IT and digital transformation - helps him to be successful in implementing radical changes.
"I'm in a good position because I am in charge of both the IT department and digital transformation," he said in the interview. "You cannot hire someone to do digital transformation if he doesn't have any operational levers."
The Executive Committee is Renault's senior operational management board. It meets once a month.
Other appointments to the Executive Committee include Laurens van den Acker, head of corporate design; Philippe Guerin-Boutaud, Renault's quality and customer satisfaction chief; and Véronique Sarlat-Depotte, who is in charge of purchasing for both Renault and the Renault-Nissan-Mitsubishi alliance.
The changes come as Thierry Bollore settles into his new position as CEO of the company, a position he assumed following the departure of former CEO Carlos Ghosn.
Ghosn was arrested in Japan in November on suspicion the he had deliberately underreported income and other alleged financial misconduct. The former CEO, who was released on bail earlier this month after spending 108 days in confinement, denies all charges.
Renault said in a statement that the new make-up of the Executive Committee responds to the changes sweeping the auto industry. The new board will help "accelerate the company's transformation to better meet customer expectations and improve the efficiency and profitability of operations," the company said.