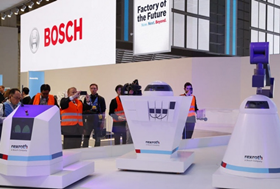 Bosch will show a range of new technologies at the Hannover Messe that will demonstrate that the factory of the future is quickly becoming reality.
The German automotive supplier group said its manufacturing technology division, Bosch Rexroth, will show a digital service assistant that performs fault diagnoses on any mobile device; a mechatronic system that handles fitting and pressing of components without programming; and an autonomous shuttle that can handle intralogistics tasks independently.
Bosch said intelligent and autonomous shuttles can significantly reduce inventories in production, thus saving manufacturing companies cost.
Also, Bosch said it will show a 3D printer with drive and control technology from Bosch Rexroth that demonstrates what fully automated and connected additive manufacturing can look like tomorrow.
"We merge classic factory automation with information technology and enable interoperability through open standards," Heiner Lang, head of the automation and electrification solutions division of Bosch Rexroth, said in a press release.
Earlier this month, Bosch Rexroth broke ground for a 60 million euro plant expansion in the western Chinese city of Xi'an. The facility, which will make systems for factory automation will serve as a model plant for Industry 4.0 technologies, Bosch said.
The Hannover Messe, one of the world's biggest industrial fairs, opens in Hanover April 1.