UPS, which received official US approval for drone deliveries last week, said it would quickly expand the use of the airbone delivery technology.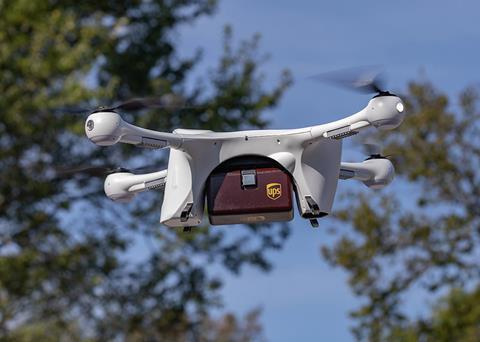 The logistics group said hospital campuses, which often require fast delivery of medical supplies, are a key target area for drone deliveries. But it also cited many other potential business applications.
"We aren't done yet," UPS CEO David Abney said in a press release. "We will soon announce other steps to build out our infrastructure, expand services for healthcare customers and put drones to new uses in the future."
The US Federal Aviation Administration (FAA) last week granted so-called 'Part 135' standard certification for drones flown by UPS. The certificate allows the company to fly an unlimited number of drones with an unlimited number of remote operators in command.
Moreover, UPS said, it is now allowed to operate drones that, together with their cargo, can exceed a weight of 55 pounds. And these drones are allowed to fly at night.
Amazon and several other online shopping and logistics companies have been experimenting with drone deliveries, which could help address the growing delivery problems resulting from urban congestion. Drones could also provide a more environmentally friendly way to deliver packages than the deployment of internal-combustion-engine-powered vehicles.
"This remarkable development heralds a new era of parcel logistics," said Mike Vousden, automotive analyst at GlobalData, a data and analytics company.
"We aren't done yet."

UPS CEO David Abney
UPS earlier this year partnered with autonomous drone maker Matternet to deliver medical supplies to WakeMed's flagship hospital and campus in Raleigh, North Carolina. The deliveries, which use a Matternet M2 quadcopter powered by a rechargeable lithium-ion battery, received FAA approval as part of a three-year program to test practical applications of drones.
The Matternet M2 quadcopter can carry medical payloads weighing up to about 5 pounds over distances of up to 12.5 miles.
With its new FAA certification, UPS can move ahead with plans for more drone services. It said it planned to expand its deliveries to new hospital and medical campuses, quickly enhance required safety technologies and construct a centralized operations control center.
UPS also said it would forge new partnerships with additional manufacturers to build drones with varying cargo capacities.
And it cited plans to look for opportunities for drone deployment outside the healthcare industry. One such area: the transport of special commodities and other regulated goods.
Global revenue generated drones in the civilian economy is set to jump to more than $20 billion by 2028 from $5 billion last year, according to GlobalData. Growth will be driven by increased use of drone deliveries and by consumers purchasing drones for private uses.