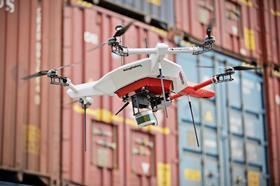 Škoda is testing the use of autonomous drones for stocktaking at its factory in Mladá Boleslav, Czechia. The drone is detecting, identifying and counting empty containers outside the factory from above, three times a day, and the data it collects is transferred to Škoda's logistics department for processing.
The drone, under testing since May 2018, is based on the Kingfisher model from Czech firm Robodrone; it has six rotors, can fly at up to 20km/h, and can carry up to 5kg. It uses LiDAR technology to measure distance and speed during its flight, and navigates using the 3D map the LiDAR generates. Robodrone has collaborated with Škoda to develop its bespoke algorithms.
In the next phase of the trial project – which so far represents a €200,000 investment – the drone will be able to autonomously navigate itself to its charging station, where it will also receive data on weather conditions. Škoda intends to implement drones in regular operations within the medium term, and use them for stocktaking in everyday operations.
Michael Oeljeklaus, Škoda board member for production and logistics, said in a statement: "We are continuously working on improving the efficiency of our everyday production processes and making work easier for our employees. Drones assist with and speed up the stocktaking process… such processes will take place completely automatically in everyday operations in future."
Similarly, ZF Friedrichshafen has also recently announced that it is trialling drones in one of its production facilities, including for the short-distance delivery of lightweight parts and packages.