Former Byton CEO Carsten Breitfeld has been appointed global chief executive of Los Angeles-based Faraday Future (FF), strengthening the management ranks of the Chinese-owned electric-vehicle company and potentially improving its chances of bringing to market its flagship FF 91 model.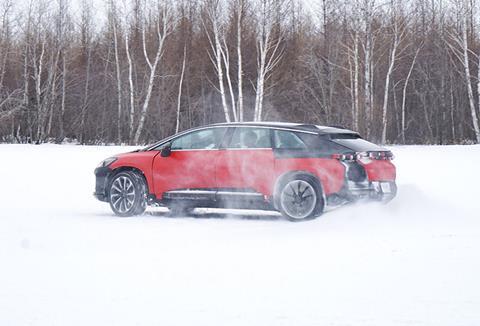 Breitfeld left Byton, an EV startup he co-founded, earlier this year. He previously oversaw the development of BMW's luxury hybrid-electric i8 sports car program.
Faraday Future, which was founded in 2014 by Chinese entrepreneur Jia Yueting (YT), calls itself a "global shared intelligent mobility company." It said in a press release that Breitfeld's expertise in automotive and electric-vehicle expertise will complement Jia's vision and experience in internet, consumer electronics, artificial intelligence (AI) and user operations.
"One of the main reasons I joined FF was YT and his vision for how the mobility eco-system will transform the industry," Breitfeld said in a statement.
Breitfeld will take charge of Faraday as it begins production of the FF 91, the company said. It didn't say when exactly production would commence. Breitfeld will also manage the final development of a mass-market EV, the FF 81.
Jia is an internet entrepreneur who, in 2004, founded Chinese video-streaming web site LeTV. That company is now the No. 1 internet TV brand in China.
When he established Faraday in 2014, he said next-generation vehicles needed to be electric, intelligent, connected and shared. The FF91 has been designed to incorporate all those features.
"I envisioned a vehicle that will truly redefine transportation, mobility and connectivity," Jia said in a statement. He added that his aim was to create " a true 'new species' of vehicle that integrates the 'third internet living space' with our 'smart driving platform.'"
Breitfeld said the range of new technologies FF is planning for the FF91 was one reason for joining the company. "It was when I saw the product, the innovative technology and the many dedicated employees that make up FF that it was clear to me that FF is setting a new standard for intelligent mobility and that I needed to be a part of it," he said.
Rocky road
Despite its ambitious plans, Faraday has not yet managed to actually start building cars. Since its founding, it has been plagued by financial troubles. The company has been forced to change its plans for a big car plant in Nevada and it has only managed to remain afloat through a capital injection by Chinese investors.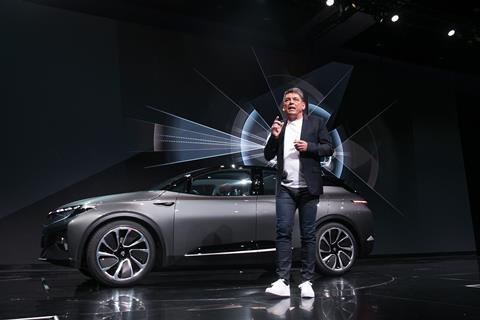 The company also recruited Stefan Krause to help shore up its finances but the former Deutsche Bank and BMW finance chief left FF in 2017. Ulrich Kranz, another former BMW executive, also left that year.
Breitfeld's appointment is part of a continuing reshuffle in the top ranks of EV startups. Krause, who co-founded Canoo, previously known as Evelozcity, announced in August that he was taking time off from his job as CEO of that EV company. He is still employed by the company, though.
And earlier this year, Karl-Thomas Neumann, a former VW executive and Opel CEO, left Canoo to pursue other opportunities.