Magna has opened a new electronics manufacturing plant in Michigan that will increase production of advanced driver assistance systems (ADAS), especially in cameras and components to support vision-based driving systems.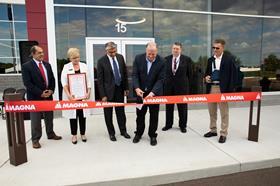 Automotive supplier Magna has invested nearly $50m in the operation, which consolidates three nearby locations into a single 230,000 sq.ft (21,300 sq.m) facility in Grand Blanc Township. These include the Magna Electronics plant in Holly – about 15km away – a joint venture operation for LED lighting, and a research and development center with a focus on artificial intelligence and advanced robotics in production.
From its plant in Holly, Magna Electronics already ships ADAS components to more than 330 different locations in the Americas, Europe and Asia. It has produced more than 46m automotive grade cameras and ADAS components since 2005. Magna Electronics produces around 12m cameras globally each year.
Magna combines these cameras with other sensors such as radar and lidar to form the systems that make up the building blocks of autonomy.
"We provide features to improve the daily commute and add a layer of safety," said Magna chief executive officer Swamy Kotagiri. "With the excitement surrounding autonomous vehicles and their potential to eliminate car crashes, it can be easy to forget the path to full autonomy lies in the safety and driver assistance systems we have today."
The new plant is now also the home of Magna Rohinni Automotive, a joint venture formed in 2018 to produce micro-LED lighting. Magna and Rohinni have installed a dedicated production line in Grand Blanc.
The facility now also houses Magna's advanced research and development testing lab. According to Magna, this new lab allows the testing and implementation of artificial intelligence and robotics, which are adaptable, flexible and work in collaboration with people.