Fiat Chrysler has inaugurated a new driving simulator that lets the carmaker test vehicle functions in a real-time, virtual environment. FCA says it is the most advanced simulator in North America.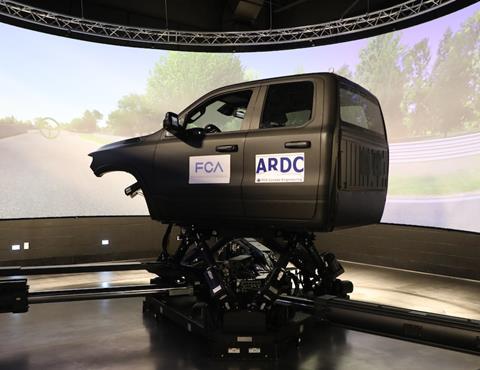 The Vehicle Dynamics Simulator (VDS) is located at FCA's Automotive Research and Development Centre in Windsor, Ontario. With the help of nine, rather than the customary six, actuators, it offers the ability to more accurately reproduce vehicle ride, handling and acceleration characteristics.
"This new technology offers the driver a customized virtual immersion that replicates the ride and handling of a specific vehicle on a multitude of simulated road surfaces and driving environments," Tony Mancina, head of engineering at FCA Canada, said in a press release.
Subsystems, such as brake and steering, anti-lock brake system (ABS) and electronic stability control (ESC) can be added to the simulator when required.
Virtual-reality simulation is growing in importance for automakers, as they look for ways to reduce the costs of real-world testing, speed up development processes and cope with the growing complexity of automotive systems.
The so-called DIM250 simulator, built by German simulation software specialist VI-grade, can be fitted with any vehicle body, road and environment.
Scanned environment and road data are integrated to create a real-time virtual world projected on five screens.
Guido Bairati, VP sales and marketing at VI-grade, said his company's simulator offers the ability to develop cars faster and at lower cost.
Said Bairati: "The ability to simulate a drive experience with Hardware-in-the-Loop is key to the engineering efforts of our customers and assists in identifying design changes much earlier in the development process."
Hardware-in-the-loop simulation is used to develop and test complex real-time embedded systems.