Electrification, high investment costs and environmental concerns are major factors driving changes in automotive manufacturing, executives said at an industry gathering here Monday.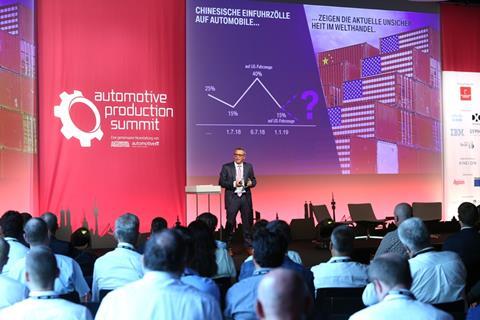 MUNICH –- The auto industry is faced with an unprecedented array of challenges. Companies are making huge investments in automated driving technologies; they have to convert their tried-and-tested powertrains to electric motors; and they need to boost manufacturing efficiency while building more and increasingly complex models. In addition, they have to make sure their plants have a more sustainable footprint.
The way these trends impact car manufacturing was the subject of the Automotive Production Summit, a two-day conference hosted by Automobil Produktion and automotiveIT, sister publications of automotiveIT International.
BMW is betting heavily on flexibility in its manufacturing operations to deal with rapidly changing market requirements. Udo Haenle, head of production integration and pilot plant, said tightening regulations on diesel emissions have meant that demand for gasoline-powered models has risen sharply.
And, though electric powertrains still only account for a small part of BMW's production volume, Haenle said the premium car maker is ready for an expected rise.
"From 2021 we will build all our powertrains on the same production line," Haenle said, adding that new BMW and Mini models are being engineered in such a way that different powertrains only require small adjustments to the overall car.
"We can be completely flexible," he said.
Flexibility is also key in Skoda's plans to expand its production. The volume car brand, which is part of the Volkswagen Group, is operating at maximum capacity and needs to expand. It also has to adapt to multi-brand production, which allows the VW Group to build, for example, a VW and a Skoda model on the same line.
Michael Oeljeklaus, board member for production and logistics at the Czech car brand, also cited other trends he's dealing with, including the increasing complexity of cars being buil ttoday and customers' gradual move toward bigger models. The VW Group's platform approach helps address these requirements, Oeljeklaus said.
The Skoda executive said electrically powered models using VW's modular electric platform (MEB) will be built on a traditional combustion-engine car line. Moreover, the group plans to start building its own batteries.
The company will be ready for this change, Oeljeklaus said, with the possible exception of all the backend and infotainment software required. "Software provides a special challenge," he said.
Sustainability
Sabine Angermann, who is in charge of raw materials purchasing at Mercedes-Benz, told the conference that Daimler, Mercedes' parent company, plans to be completely CO2 neutral across its carmaking operations by 2039. By 2022, Mercedes wants its car production in Europe to be CO2 neutral and, by 2030, it aims to have half of all cars sold be either battery-electric vehicles or plugins.
All this will be achieved in the car plants by using green energy and making technical improvements to production.
"We need the entire industry to achieve climate neutrality"
Sabine Angermann, Mercedes-Benz
The Mercedes executive stressed the need for more collaboration with other automakers and suppliers. "We need the entire industry to achieve climate neutrality," she said.
In purchasing, Mercedes also takes into account working conditions and human rights in general in some of the countries that supply key raw materials for new technologies. While working locally to improve conditions, the company also is researching ways to reduce its dependence on cobalt.
To increase transparency in the supply chain for ever more important batteries, Daimler has started a pilot project using blockchain to get more insight into what happens in the entire process, from mining all the way to final delivery to Daimler. "Blockchain is an excellent tool to get transparency," Angermann said. "It will revolutionize purchasing processes."
London taxis
Joerg Hofmann, CEO of London Electric Vehicle Company (LEVC), provided a practical example of how electric taxis could help address growing traffic-generated air pollution in the city of London.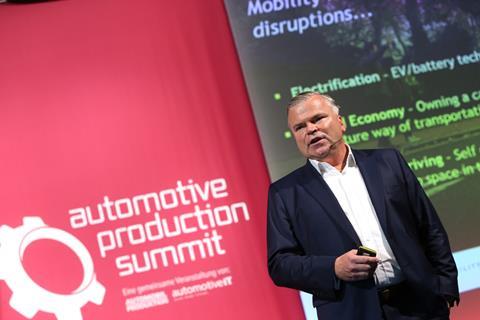 LEVC is the successor company to the London Taxi Company, which made the iconic black cabs that are still in circulation throughout the city. The company was acquired by Geely in 2013 and renamed LEVC. Geely has, since then, invested £500m ($630m) to transform a traditional car manufacturer into an EV specialist.
Hofmann said that, with more and more people ordering goods for delivery online, London streets have to deal with around 65,000 van deliveries daily. Most of those vans are diesel powered "and this is, for sure, not sustainable," he added.
The LEVC CEO, who joined the company from premium carmaker Audi in early 2019, said the new generation of London taxis his company is building have hybrid powertrains, which use a small internal combustion engine to recharge batteries whenever needed. That way, the car can drive electrically for 130km and up to 800km with the help of the range extender.
Said Hofmann: "Most taxi drivers say range anxiety is their primary concern when it comes to electric vehicles. Our technology gives them peace of mind."
Hofmann admitted, however, that the company was still not making money and facing market issues. Its plant in Coventry has capacity to produce 20,000 units per year, but is well below capacity. The company has recently reduced headcount by around 30%.
But it has a three year plan to shift towards exports, with Europe the initial focus. And it will continue to invest in its production, including adding more automation and AGVs in the plant, as well as in supply chain stability. While LEVC currenlty doesn't have a paintshow – it recieves lightweight panels pre-painted, for example – Hofmann said tha the company could reconsider that approach to ensure quality of parts.
"We want to grow and to continue to transform," he said.