Mercedes-Benz is building a 5G mobile network with Telefónica and Ericsson for car production at its high-tech 'Factory 56' in Sindelfingen, Germany.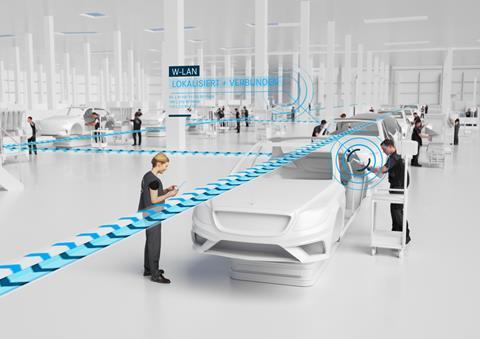 Other carmakers, including Audi, are also running tests of 5G connectivity in production, including in lab environments. However, Mercedes-Benz claims that the project, which extends over an area of more than 20,000 sq.m at the plant, will be the first global example of 5G mobile communications in active production.
"With the 'Factory 56', we are not only building the smart car production of the future, but also putting in place the world's first 5G mobile network in a vehicle assembly factory", says Jörg Burzer, Member of the Divisional Board of Management of Mercedes-Benz Cars, Production and Supply Chain. "With the installation of a local 5G network, the networking of all production systems and machines in the Mercedes-Benz Cars factories will become even smarter and more efficient in the future. This opens up completely new production opportunities."
The 5G network is being installed by telecommunications company Telefónica Deutschland in collaboration with network supplier Ericsson, after which point Mercedes-Benz will take over operational control of the network.
Factory 56 is slated to open in 2020 as an extension to an existing plant, and will house the assembly of the new S-Class as well as the first electric vehicle (EV) in the new EQ family – the EQC.
5G is expected to play a major role in increasing machine connectivity, and could transform automotive production in particular by allowing for extremely fast data transmission rates, along with extremely low latency and high reliability.
Mercedes-Benz suggests that having its own infrastructure will be a significant advantage, including data linking or product tracking on the assembly line. With a separate, own network, all processes can be optimised and adapted at short notice. A further benefit of using a local 5G network is that sensitive production data do not have to be made available to third parties.
Mercedes-Benz also points to the benefits of controlling the machines and equipment in a close network and at short distances. According to the company, the assembly facilities and materials-handling technology at the plant will be connected with several 5G small-cell indoor antennas and a central 5G hub.