Hyundai and its sister company Kia are joining Ionity, a growing automaker initiative to build and operate a network of 400 electric-vehicle charging stations across Europe by 2020.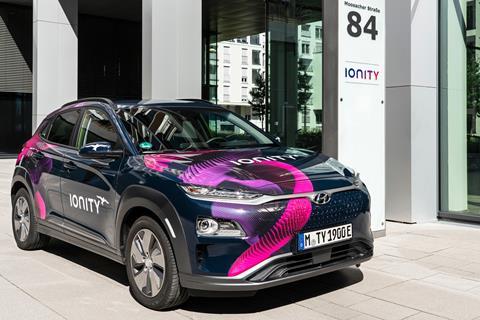 Ionity was founded by BMW, Daimler, Ford Motor and the Volkswagen Group in 2017 to speed up the development of Europe's lagging charging infrastructure. The company now operates nearly 140 charging stations in Europe.
The absence of a sufficient number of charging stations is seen as one of the major barriers to the wider adoption of electric vehicles. McKinsey, in a recent report, estimates that roughly 400,000 charge points are needed to accommodate the 2 million EVs automakers want to sell in Europe in coming years.
Automotive brands have been making ambitious forecasts of the number of EVs they want to market in coming years. Hyundai plans to launch 44 electrified models across the group by 2025 and the Korean carmaker said its investment in Ionity underlines its commitment to bringing electric mobility to Europe.
"I am confident that our work with Ionity will open a new era of high-power charging experiences, where charging will be seamless and easier than refueling for our customers," said Thomas Schemera, head of product division at Hyundai.
The Ionity network, which uses the universal Combined Charging System, provides maximum charging power of 350 kilowatts. That will allow faster charging for Hyundai and Kia EVs. The brands plan to deploy an 800 volt electrical architecture in their EVs from 2021.
Automaker interest in putting 800 volt systems in electric cars is on the rise.
The Porsche Taycan, the sports car maker's first fully electric model, will have such an 800-volt architecture. The Taycan was officially unveiled earlier this month.
"The 800 volt on-board supply system will increasingly become the future standard for high-performance electric vehicles," said Marko Denk, a power electronics expert at automotive supplier ZF Friedrichshafen. In an article published in December 2018, Denk said 800 volt systems will be a key requirement for the "ultra-fast" charging EV drivers will want.
Confirming that demand for 800 volt systems is set to increase, Delphi Technologies announced at the Frankfurt auto show this week that it is starting volume production of an 800 volt silicon carbide (SiC) inverter.
The power electronics specialist said the system will enable electrical systems up to 800 volts, which would extend EV driving ranges and halve charging times.
Silicon carbide is a new material that offers huge improvements over the silicon now used in most semiconductors. Inverters change direct current to alternating current in an electric motor.
Hyundai's share in Ionity will be equal to the stakes held by the each of the founding automaker partners.