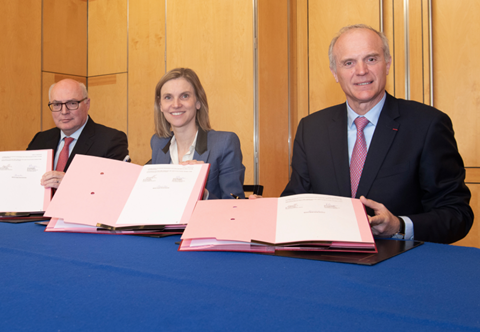 Tire maker Michelin and interiors specialist Faurecia plan a joint venture to combine their fuel-cell related activities.
The venture, which will be named Symbio, will develop, produce and market hydrogen fuel cell systems for cars, utility vehicles, trucks and other applications.
The two French companies said their cooperation was driven by a common conviction that hydrogen technology will play a major role in creating a mobility industry with zero emissions.
Especially for long distance travel and intensive use of a car or truck, fuel cell technology will complement batteries as an electric powertrain, they said.
They also cited a need to create a French and European world leader in hydrogen fuel cell systems.
Michelin's Symbio subsidiary, which already supplies hydrogen fuel cell systems, will become part of the new company, while Faurecia will contribute the technological fuel cell expertise it has developed through a strategic partnership with France's public government-funded research organization CEA.
Florent Menegaux, general managing partner of Michelin, said the ultimate aim of the cooperation is "to develop a complete mobility offer for hydrogen vehicles, from fuel cells to maintenance services."
And Faurecia CEO Patrick Koller said the joint venture will speed up the introduction of hydrogen based powertrains.


"Our shared vision, as well as the complementarity of our technological know-how, will accelerate the market launch of efficient fuel cell systems adapted to different use cases," Koller said. "Our joint ambition is to create a center of excellence for hydrogen mobility in France through the gradual combination of our activities."