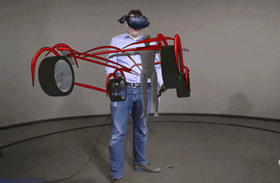 Ford Motor says it is the first automaker to work with Gravity Sketch, a 3D virtual reality tool that allows car designers to speed up their work.
The software, built by a London startup, allows designers to start working with a 3D model right away, skipping the traditional phases of design that involve renderings of 2D sketches.
"Jumping right into 3D gives us a 360-degree view of a vehicle as it is being created," Ford design manager Michael Smith said in a press release.
Smith said the early application of virtual-reality technology also provides more options to review various models, which will help create better vehicles.
Five global Ford design studios are trying out Gravity Sketch. The carmaker hopes the technology will help it to "drastically" reduce development time as it evaluates the feasibility of new car designs.