Robert Bosch sees a big role for blockchain and expects the distributed ledger technology (DLT) to be a key enabler of tomorrow's internet of things (IoT).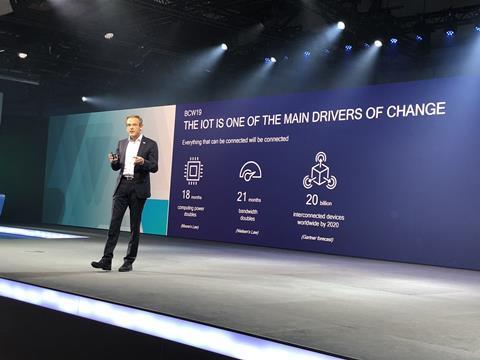 The German automotive supplier predicts the next phase of IoT will not just mean that everything is connected but that independent communication between "things" will become the norm.
Bosch executives laid out their vision at their annual Connected World conference in Berlin. The gathering had as its motto "From the internet of things to the economy of things."
Among mobility scenarios that will be possible in the economy of things, Bosch cited electric vehicles that negotiate independently with charging stations and cars that can pay their own parking fees.
"In the future, things will not just be connected in order to communicate, they will do business together," Bosch CEO Volkmar Denner told the 5,000 Connected World attendees.
Bosch believes the decentralized architecture of DLT will bring huge benefits to companies adopting the economy of things.
"To build trust in digital ecosystems, we need open platforms and an internet in which users have the power to decide for themselves," Denner said. In such a structure, users are independent of big internet players, which helps build trust in internet platforms, the company believes.
Bosch sold 52 million web-enabled products in 2018, over a third more than in 2017. The company's open-source IoT Suite has to date connected more than 10 million devices from various manufacturers.
Separate from its Connected World event, Bosch is participating in an IoT stakeholder meeting today called the Digital Trust Forum. The gathering will look at how to build and safeguard trust in digital systems.
The meeting takes place as experts predict further strong growth in the IoT market. Bosch said global IoT market volume is likely to grow 35% in 2020 to $250 billion.