Dragos Muciuca, technical leader of Ford's Research and Innovation Center in Palo Alto, talks about how the innovation office is expanding and influencing Ford's R&D globally.
At Ford in Palo Alto an employee demonstrates how radar and camera data work together to improve autonomous vehicle sensing capabilities (Photo: Ford)
Dragos Muciuca has worked in Silicon Valley for 20 years, starting in the early days of BMW's technology office scouting for new technology and startups. He went on to work in a range of engineering and R&D roles, including at Lockheed Martin and Apple, before joining Ford in Palo Alto in 2015. As technical leader of the carmaker's research facility, Muciuca has recently overseen a huge growth in the center's employees and competencies. Today, Palo Alto is part of a triad of major innovation hubs for Ford, including at its headquarters in Dearborn, Michigan and in Aachen, Germany. Muciuca spoke to automotiveIT in Palo Alto recently.
Christopher Ludwig: Ford has greatly expanded the size of the staff in Palo Alto over the past two or three years. How many of the employees here have an automotive background?
Dragos Muciuca: In this office, around 80% are both new to Ford and new to automotive. Most come from software, and don't have a strong automotive background. Another 20% moved from Michigan to guide the newcomers in the automotive sector. We think that if your staff is 100% from the Valley, they will end up designing another phone. But if you have 100% from Michigan [transplanted to Silicon Valley], they will design a car the way they are used to, but at three times the cost.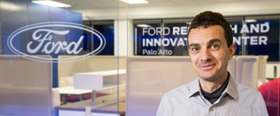 Has it been challenging to bring together those from the 'fail fast,' quick-development cycles of the tech sector with the slower moving automotive process?
You are right, by the time you get to production you cannot fail. But we are at the other extreme here: we are in research – and failure is part of daily life, and part of life in Silicon Valley. Failure is accepted and you can see it in the way we screen startups. For example, we look at well over 1,000 companies, and probably initiate work with 100. Whether you call that failure or filtering, it is part of our role here to be very broad and stay aware of all the trends.
What are some of the key areas where you think this office is succeeding?
The biggest impact is in understanding the role of software and of the connected vehicle. I am a car guy, but what is necessary nowadays is less about driving dynamics and more about making the car another 'T' in IoT…another thing that is connected in our lives. The fact that our office helped in the deployment of Amazon Alexa in our vehicles, for example, allows us to think differently about the vehicle as a device.
What trends do you see shaping automotive developments in Silicon Valley right now?
One interesting thing that is happening is that after a decade of venture capitalists investing in software, they are starting to invest in silicon again. We are seeing processors, particularly for artificial intelligence, that are being designed to be more efficient and more powerful. These processors have to interact more directly with cameras and lidars. Big efforts are being made to develop new silicon that takes advantage of AI. That will be really important for the automotive industry.
Inside Silicon Valley automotive: A new role for tech and IT offices
1

2

3

4

5

Currently reading

Inside Silicon Valley: Ford innovation center in Palo Alto