Volkswagen Group and Ford Motor said last Friday they would work more closely together to develop highly automated vehicles and build electric cars.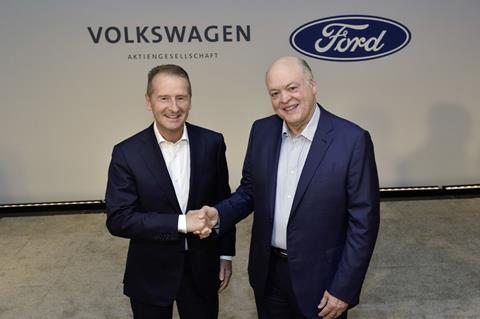 The companies cited economies of scale as the main reason for the cooperation. They said they are facing unprecedentedly high investment costs for future technologies that include electrification and further emission reductions as well as autonomous driving.
Moreover, the need to spend large amounts of money on new technologies comes at a time when the outlook for new-car sales is uncertain and the extent to which new revenue streams can compensate for falling sales is difficult to predict.
"In coming years, the car industry will be forced to spend hundreds of billions of euros worldwide to manage the transformation of its sector," said AlixPartners Managing Director Elmar Kades. "Many of the investments in electrification and autonomous driving will only start to pay off later," he added in a statement.
Global new-car markets declined in the first half of 2019, with the Chinese car market shrinking 14%, Europe dropping 3% and US unit sales falling 2%.
Argo AI
Against this backdrop, Volkswagen and Ford, two of the world's biggest automotive companies, signed a broad agreement that will see VW join Ford in investing in Argo AI, a company that has been developing an ambitious autonomous vehicle platform in recent years.
Ford already injected $1 billion in Argo in return for an equity stake in 2017. VW will now invest $2.6 billion. Of that total, $1 billion will be in the form of fresh funds for the tech company, while $1.6 billion represents the value of VW's Autonomous Intelligent Driving (AID) company, which will become part of Argo AI.
The two companies declined to say how big their respectives stakes in Argo AI would be, but together they will hold a majority interest in the autonomous-driving specialist. The automakers will have equal holdings.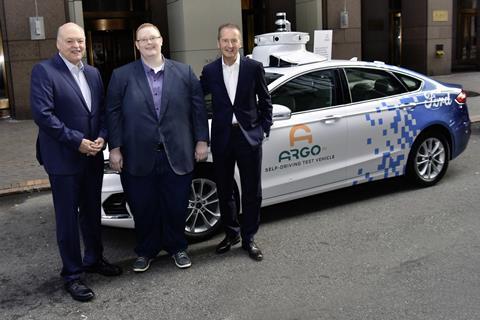 The pact marks an implicit acceptance that a lot of the technology underpinning highly automated vehicles will be part of systems and architectures that won't necessarily differentiate one brand from another.
The same is the case for electrification, where, contrary to internal combustion engines, electric powertrains are expected to become a commodity as carmakers roll out their next generation of EVs.
Hence, Ford and VW also announced a major EV agreement. Starting in 2023, the US carmaker will build a high-volume electric vehicle for the European market on Volkswagen's modular electric toolkit (MEB), an architecture the German car manufacturer has developed specifically for EVs.
Ford plans to initially sell more than 600,000 European cars built on the MEB platform over a period of six years. The agreement makes Ford the first automaker client for the architecture, which until now has been primarily developed for VW Group vehicles.
Ford and VW agreed in January to jointly develop commercial vans and medium-sized pickups from 2022 onwards. They said at the time that they would explore opportunities to collaborate on autonomous vehicles, mobility services and electric vehicles.
Autonomy plans
VW Group CEO Herbert Diess said at a press briefing on the Ford agreement that his company will rely on Argo for most of the development work related to driverless cars. Bringing the company's AID unit into Argo underlines that commitment, he said.
The expanded cooperation between the two automakers will bring huge advantages to both, Ford CEO Jim Hackett said. "While Ford and Volkswagen remain independent and fiercely competitive in the marketplace, teaming up and working with Argo AI on this important technology allows us to deliver unmatched capability, scale and geographic reach," he said. "Unlocking the synergies across a range of areas allows us to showcase the power of our global alliance in this era of smart vehicles for a smart world."
Argo AI's focus is on building a so-called level 4 autonomous driving platform, which can underpin vehicles that can operate autonomously in controlled environments. That's the most likely first application for autonomous vehicles, said Argo AI CEO Bryan Salesky. "I'm not saying level 5 is impossible, but it is way in the future," he added. Level 5 autonomous vehicles would be able to operate without a driver in any traffic environment.
"The amount of money we spend on software will increase quite considerably in coming years, as the car becomes more of a software product"

Herbert Diess
VW's Diess said cost savings were a major factor in his company's decision to join hands with Ford on autonomous driving technology development. The collaboration will mean that VW's R&D budgets won't have to grow even more in future.
"But the amount of money we spend on software will increase quite considerably in coming years, as the car becomes more of a software product," Diess warned. That means overall expenditures likely won't fall, "but we will push to use all synergies we can find," he said.
Electrification
Both companies' chief executives cited costs as important motivation to share VW's MEB platform. But they also said joint development of EVs will be an important driver of consumer acceptance of the new vehicles.
That's key to boosting the global volume of EV sales. Those sales are growing rapidly, but they continue to be too low to make for a profitable business.
Nevertheless, automakers are investing heavily in electrically powered cars in the belief that they will become the dominant powertrain option. Together, they will be bringing to market more than 200 new electric models between now and 2022.
EV sales in the large Chinese market jumped 20% in the first half of 2019, boosting the cars' market share to 5.1% from 2.9% a year earlier, according to Germany's Center of Automotive Management (CAM). US sales also rose 20% with market share increasing to 1.8% from 1.4%.
Said CAM director Stefan Bratzel: "Electric mobility is about to make its breakthrough in the core automotive markets, but we expect this from 2020 onwards." He noted that it is significant that EV sales increases are realised as the overall car market is declining.
Volkswagen has one of the most ambitious rollout plans for EVs with a groupwide target of 70 all-electric models on the market by 2028. By 2025, it wants to sell at least 1 million electric cars a year.
The German carmaker started development of its MEB architecture in 2016 and has invested around $7 billion in it so far. The carmaker is planning to build approximately 15 million group vehicles on MEB in the next 10 years.
"Looking ahead, even more customers and the environment will benefit from Volkswagen's industry-leading EV architecture," VW CEO Diess said. "Scaling our MEB drives down development costs for zero-emissions vehicles, allowing for a broader and faster global adoption of electric vehicles."
Ford's Hackett predicted that using VW's platform would speed up acceptance of EVs. He said the tie-up wouldn't affect Ford's plans to invest $11.5 billion in electric vehicles through 2022, but noted that it will allow the carmaker to reduce the sticker price of the new category of cars.
"We have to get costs down so customers can buy electric vehicles," he said. Ford plans to have around 40 electric and plug-in hybrid vehicles in its product lineup in the next three years.