The Volkswagen brand is the first car manufacturer to have a board member in charge of software. In an interview, Christian Senger talks about the sea change within the company, software as a core competency and changes in supplier management.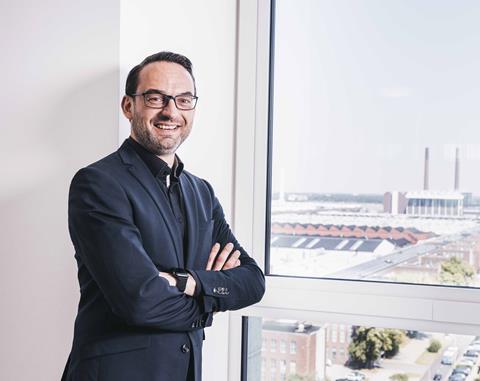 Mr. Senger, since March 1 you have been the first-ever board member in charge of software for an automotive brand in Germany. Would you say that your appointment signals a fundamental change in the industry?
Volkswagen is the first car company to create its own board-level function devoted to the development of vehicle software. But it's not enough to merely announce a Volkswagen brand board member with these responsibilities. This is more than an appointment. We are building up a high-performance software unit that acts across brands and consolidates expertise. The reason is simple: We will continue to be successful only if we keep focusing on our customers and elevate their user experience: in the car, on and via their smartphone and in dealerships, at all the touch points. Software is the key to this approach.
Is the car software unit that you just created Intended to be the foundation for what you are describing?
Yes. We are pursuing a clear goal with the software unit. We want to significantly increase the in-house share of software development in the vehicle – to more than 60 percent by 2025. We were unable to advance with the old model. The interrelationship of powertrain technology, sensor systems and processor units in the vehicle is becoming more and more complex. It takes a major effort to integrate systems from different suppliers. This is not the best use of our resources. We need a new base model in which we program much more software ourselves, set standards and develop our own architectures. In short, we want to be less component-oriented. We want greater architectural expertise. As an organization, this will require us to think more in terms of software in the future while orienting ourselves to the requirements of digital development work.
But Volkswagen has always been purely a hardware organization.
We have mastered the development of hardware. For decades, this has shaped our view of the company as an automaker. But hardware has a long development cycle, sometimes four or five years. By contrast, the cycle for software is measured in months, sometimes weeks. So we are talking about different speeds and cycles. We're taking this into account by uncoupling hardware and software development and building up core software competencies.
"We want to significantly increase the in-house share of software development in the vehicle – to more than 60% by 2025"

Christian Senger
What makes you so sure this is going to work?
The logic is clear to everyone. We need greater software competency and digital capabilities to remain strong and successful financially. This conviction is firmly anchored in the company.
On close examination, you are putting everything on two tracks: You are totally turning to electric mobility while transforming the company into a software firm. Aren't your shareholders breaking out in a cold sweat?
It's now or never. We don't make our business decisions in an ivory tower. We are convinced that automakers who don't make the move to electric mobility will have a tough time in the future. Aside from the legal requirements, we have reached the point in society where people expect solutions from us. The same applies to the digitalization of the automobile. We have to be up-to-date. We are certainly not going to be competitive with retro chic.
Sounds a bit like Kodak: Either I deliberately choose the future or I run the risk of disappearing from the market…
The size of your company doesn't give you a right to exist. There is enormous dynamism in the market, especially in electric mobility and digitalization. We have to keep up. Look at China. You either bet on electric mobility in the Chinese market from now on, or you suffer a massive loss of relevance. As a group, we currently have a market share of more than 18 percent in China. We have to take action. It's what our customers expect.
Because Volkswagen is dependent on China?
China is our single most important car market. But the real question is how good a company is at examining itself critically on its path to the future and reorienting itself when necessary. I think we've set a course at Volkswagen and we're on the right track.
Let's be clear on this: The automaker of the future has to bet on electric mobility if it wants to survive – and on software?
Yes. Electric mobility and digitalization are the two defining themes. A core competency in software is fundamentally important for customer acquisition. Mobility will continue to develop. It is moving from the pure ownership of an automobile to mobility as a service and new digital business models. This leap can only succeed with a greater software orientation and the best possible user experience. We already see today – with smartphones, for example - that customers are ready to pay for a positive, useful experience.
So can you be a little bit more concrete about the coming moves?
It is foreseeable that we can no longer shape mobility as a business solely with excellence in mechanical engineering. We have a clear path forward. We need significantly more of our own software expertise. I consider three steps to be crucial. First, we move away from a component and control-unit orientation to a software and standards approach. Whoever understands the entire system and cycles through it with strong processes can master a high degree of complexity. Second, we are going to expand our software expertise by creating more jobs of the future and entering into new technology partnerships. Third, we are going from a multiple to a single approach: In the future, there will be one high-performance software platform that serves both the premium and high-volume segments – for all the brands and all markets.
How powerful will the inertial forces be when the company brings out a model of this kind?
Of course, the changes introduced by the transformation are serious. But everyone has understood the need and the logic behind them. I've noticed that people are more than ready to tackle the transformation with all their strength. We'll be able to make it a success.
You plan to take the company's share of software development from 10 to about 60% by the year 2025 and want to bring another 5,000 specialists on board. That sounds ambitious…
We are going to set up a software platform for all the brands and the entire product family in the Volkswagen Group. It specifically involves a uniform vehicle operating system and an associated cloud platform, the Volkswagen Automotive Cloud. After all, only one issue counts in the world of software: Who is serving the most customers with a platform. And here at Volkswagen, we have a huge potential for economies of scale. As a group, we are delivering more than 10 million new vehicles a year. That adds up to 50 million vehicles in five years. To reach the goal of a uniform software platform for all these vehicles, major investments, more employees and strong cooperative ventures are required. In the end, we will be able to show a strong software footprint. I am sure of that.
"We are going to set up a software platform for all brands and the whole product family in the Volkswagen Group"

Christian Senger
What will be impact be on supplier management?
The relationship will change. There's no question about it. Until now, we've been buying software and hardware as a package. We will separate them in the future. As soon as we've established a uniform software platform with standards, it will be easier for us to set up hardware suppliers on a regional basis. This is an important role for the regions. It is important for us to keep variation and complexity manageable – and not continue to ramp it up.
Less variability – does that mean one software program for all the brands?
We are developing one software platform to be used by each of the group's brands in every region. But standards do not mean uniformity. The user experience from brand to brand is still differentiable.
Could you explain what you mean by that?
As a group responsibility, we are defining a software platform with basic functions for everyone. Imagine a virtual shelf where the brands help themselves. Each brand will naturally define the scope specifically for a market. For example, we can use software to sharpen the brand profiles even more clearly since driving dynamics and certain cockpit functions should continue to be differentiated.
We've been told that you're apparently planning nothing less than a car operating system that you would like to offer to other companies. It would be similar to the modular electric kit. Are you already negotiating with companies?
If we think the platform concept of our operating system through to its conclusion systematically, opening it up to third parties would be a logical step. That's exactly what we are doing with our MEB electric platform. But everything in good time. We're taking one step at a time.
In conclusion: In the end, wasn't the diesel scandal a stroke of luck for VW? Would the transformation under ex-CEO Martin Winterkorn really have been implemented as radically?
I don't engage in that kind of speculation. I think we are sending a strong signal with our clear direction toward electric mobility and digitalization. People see that Volkswagen is changing. The course has been set. We have a clear strategy and are tackling the implementation.
For insight into Volkswagen Group's business IT and software development, read automotiveIT International's exclusive interview with group CIO Martin Hofmann.