Carmakers aren't yet building enough electric vehicles to satisfy fast-rising demand, according to a new study by PwC Autofacts.
The market researchers say in their latest "E-mobility Sales Review" that sales of battery-electric vehicles soared 85.5% in major global markets in the first quarter of 2019 to 295,888 units. Sales in Europe's top-5 markets were up 34.5%, with battery-electric vehicle sales jumping 61.7%.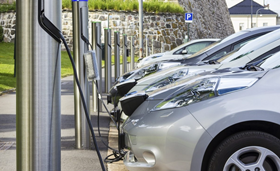 As demand grows, more and more European customers have to wait longer for their EVs. "The market for electric mobility is clearly undersupplied in Europe at the moment," said Felix Kuhnert, global automotive leader at PwC. "The necessary product range is missing and we're still waiting for models announced by established manufacturers."
PwC singled out the Netherlands as one of the most important EV markets, with sales more than doubling in the first quarter. The analysts cited the country's proactive regulatory support as a key factor in the popularity of EVs.
"The example of the Netherlands shows clearly that when infrastructure problems are solved, the e-mobility market can develop a high level of dynamism," Kuhnert said in a press release.
China continues to be the dominant EV market, with 185,000 new battery-electric vehicles registered in the first quarter, PwC said. That sales total, which more than doubled from a year earlier, compares with a mere 36,000 new registrations in the European Union countries.
Christoph Stuermer, global lead analyst at PwC Autofacts, said Chinese government policy is the main driver in the sales growth. "The strategy in China is clearly recognizable," he said. "Full electric cars shouldn't just complement conventional powertrains like in Europe, but they should really replace them."
PwC sees sales of battery-electric vehicles, which currently represent around 2.1% of sales in major global markets, growing to 3% soon. The analysts expect sales of 8 million battery-electric vehicles by 2025, up from a projected 2.7 million units this year.