The automotive industry will only stay ahead of the curve in an age of greater supply chain complexity by adopting wider digitalisation as part of its routine operations, delegates at the JDA Focus Connect conference in Barcelona were told last week.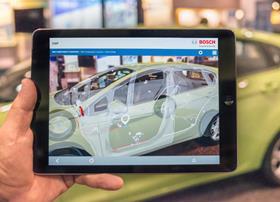 "The automotive industry has an array of technology at its fingertips to meet rapidly changing consumer behaviour and shorten supply chains," commented Hans-Georg Kaltenbrunner, VP industry strategy for manufacturing, EMEA at JDA Software.
"Automotive industry leaders are redefining their business strategies to create competitive advantage by leveraging digital-edge technologies like artificial intelligence (AI) and machine learning (ML)." he said.
McKinsey, a consultancy, has estimated that firms will derive $1.3-$2.0 trillion a year in economic value from using AI in supply chains and manufacturing.
The Fraunhofer Institute, a German research organisation, said 75% of companies felt Augmented Reality (AR) glasses would help employees in logistics; while 58% were confident autonomous drones would be used to help manage inventory.
OEMs Mercedes-Benz, Volvo and Renault all indicated they were benefitting from the real-time supply chain visibility provided by cloud-based SaaS (software as a service) applications, including cognitive insights across planning and application, visibility over future supply chain disruptions, intelligent scenario planning, profitability response and improved customer service.
In order to keep pace with the digital revolution auto firms needed to adapt to ensure a reliable, fully traceable production process, using its 'right-first-time' approach as an example, said Jean-Francois Salles, from Renault-Nissan-Mitsubishi Alliance.
"The right-first-time system uses QR codes and RFID tags on parts to help manage the quality of each one throughout the process. Each part is traceable and as soon as a customer orders a new vehicle, the raw materials are prepared, the suppliers informed, and the logistics flows put in place," he said.
"We are facing exponential changes in the automotive industry. By 2035, 30% of vehicles will be fully electric, but autonomous cars will be the biggest game-changer. Renault is digitising its production system to support operators and build connected, personalised vehicles to make plants more customer-focused,"
"By sharing metrics and KPIs between stakeholders, sales and finance, we have the potential to deliver real value, using new track-and-trace technologies and the use of automation and AR in warehouse operations." he said.
Paul Bourrasset, global S&OP manager, aftersales at Renault, explained how pre-sales operations were key to reducing overstocking and anticipating supply delay.
"When you have a number of spare parts, cash flow can be immobilised and warehouse capacity limited, with smarter demand forecasting, we can anticipate the right quantity at the right time, when we see a supplier closure, for example." he said.


AI, the Internet of Things (IoT), digital twin technology and ML linked to core warehouse management systems will transform how warehouses are operated in the future, but for now they are still predominantly managed by experienced people who are required to make constant decisions, said Peter van Merode, vice-president industry strategy at JDA Software.
"ML and AI are powerful tools, but we struggle to use them properly. Companies need data to predict warehouse management, including mobile-first experiences, autonomous fulfilment, cognitive tasking, real-time positioning and predictive labour force scheduling." he said.
Logistics service provider Kuehne + Nagel shared its approach to harnessing technology, which includes the use of automated guided vehicles, cobots, exoskeletons, heat-mapping and digital twin modelling.
"By attaching IoT sensors to assets and equipment, digital twins of your warehouse operations and transportation processes provide glimpses of your existing and projected inventory – as well as where to find it," said senior vice-president, Ian Truesdale.
"With full visibility, you can better plan whether to manufacture additional inventory, reassign existing inventory, or even re-route in-transit inventory to a new destination. Based on this real-time information – rather than some outdated forecast – you can update your planning projections and put yourself in a position to better anticipate your customers' growing needs." he said.
DHL Supply Chain, meanwhile, presented its LocusBots that automatically learn the most efficient routes around the warehouse and work alongside staff to help them locate and pick items, reducing cycle times from material selection to loading by 50%.
Antony Cotterill, VP, global JDA Centre of Excellence said that order cycle time will be an increasingly critical metric. "Multiple robots in the same aisle can leapfrog each other, autonomously manoeuvring orders as they are picked," he said.
"With collaborative piece-picking robots, there's an opportunity to introduce automation into the current pick environment, not disrupt or rearrange the setup, and see significant productivity gains. In an industry of significant growth and multiple disruptions, we have to evolve – and technology is the key enabler."