DRESDEN, Germany – ZF Friedrichshafen's new technologies are designed to support the further automation of the mobility experience on various fronts, but the large German automotive supplier doesn't see full autonomous driving on public roads anytime soon. In the meantime, it works to improve conventional vehicles, while at the same time developing tomorrow's mobility.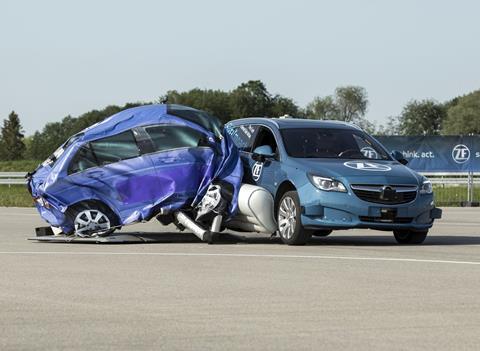 Fully autonomous vehicles aren't ready for universal introduction, ZF believes. "We have a way to go there," said the company's CEO, Wolf-Henning Scheider. "I don't see full autonomous driving on public roads before 2030, and that is probably optimistic," he said, opening the company's global technology day here earlier this month..
The industry has moved away from optimistic predictions only a few years ago that sometime in the early 2020s the picture on the world's roads would change and driverless cars would become a fixture in traffic everywhere.
Most industry insiders say that is unrealistic, as so-called "mixed traffic," where driverless cars mingle freely with human-driven vehicles, presents challenges that will take years to address.
Like many automotive companies today, ZF expects a dual future for more highly automated driving. On public roads in mixed traffic, the company expects so-called level 2+ autonomy to arrive as early as 2021. That means cars will have an increasing array of highly automated functions, but a driver will still be required to intervene if and when needed. Many of these technologies already are showing up in present-day cars.
Real autonomous vehicles, where a driver is no longer a requirement, are expected to be deployed much sooner in controlled environments such as ports and airports and on dedicated lanes. "I'm pretty sure we'll only see level 4 and level 5 autonomous vehicles in restricted areas for many years," Scheider said.
Dutch startup 2getthere, for example, already is running 22 person autonomous people movers in the Netherlands on fixed routes that have magnets embedded in the road surface for guidance. The vehicles don't have human staff on board.
"I'm pretty sure we'll only see level 4 and level 5 autonomous vehicles in restricted areas for many years"

Wolf-Henning Scheider, ZF CEO
ZF earlier this year bought a 66% stake in 2getthere and Scheider said the investment quickly establishes his company as a player in the growing people-mover segment. The Dutch specialist has a product on the market, has always made money and has already covered 100 million km with its autonomous vehicles. "We don't want to go into pilots," Scheider said.
ZF has committed itself to making personal mobility work better across the board. At its technology day, it showcased the 2getthere people mover and the e.GO Mover, a fully electric connected and automated shuttle. ZF provides electric and mechanical systems, its ProAI central computer and the sensors to enable automated driving.
The company also showed an autonomous van and a range of high-tech driver assistance systems that deploy sensors, cameras and software to offer a more comfortable and safer ride.
Improving comfort and convenience for drivers and passengers will be crucially important in coming years, Scheider said. "Realistically, today's mobility is a burden to many people," he said, citing the growth of traffic congestion in ever larger urban areas.
Industry dilemma
There is a consensus in the automotive industry that personal mobility will come in many shapes and forms for decades to come. Highly automated vehicles will mingle with traditionally operated cars and trucks. People will still buy or lease cars, but many will also share or subscribe. And electric vehicles will grow in importance, though it will likely take decades before they play a bigger role on the global stage.
All this means that automakers as well as suppliers have to cater to a variety of consumer preferences that is broader than ever before.
ZF believes that electric vehicles will become more mainstream in coming years, but it also sees a dominant role for combustion-engine-powered vehicles for decades. And, as powertrains evolve, different engine types - including hybrids - will play their part.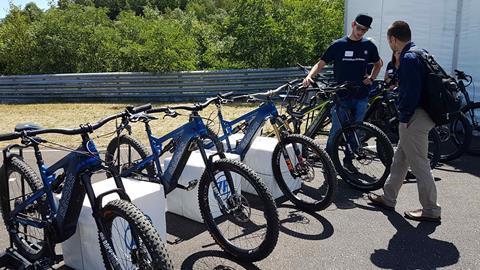 In Dresden, ZF underscored its belief in the future of EVs with the release of a 2-speed electric drive for passenger cars. The fully integrated drive will improve the efficiency of the electric motor and this can be used to either boost performance or expand driving range by as much as 5%.
"Every percent of improvement in energy conversion efficiency translates into two percent more range," said Bert Hellwig, head of System House at ZF's e-mobility division.
Broad scope
ZF's scope – and product portfolio - grew in 2015, when it completed the acquisition of TRW. The combination of the two companies meant that, henceforth, ZF's offering ranged from driver assistance and occupant safety systems to drivelines and transmissions and braking and steering systems.
Then, earlier this year, the German group further expanded its portfolio of technologies by acquiring Wabco, a maker of braking controls and other safety systems for LCVs, trucks and buses.
At its technology day, ZF showed the extent to which it could offer integrated solutions for a wide variety of automotive – and mobility – applications. It also demonstrated how traditional automotive suppliers aim to maintain a strong role in conventional technology areas, while broadening and refocusing their product portfolio to be ready for the auto-industry transformation now in progress.
In addition to autonomous driving and electrification technologies, ZF showed systems designed to improve safety and comfort.
New safety technologies included a proactive side impact protection system, which inflates an external side airbag milliseconds before a side collision with an approaching vehicle. The system showed how sensors coupled with increasing computing power open up new possibilities to protect car occupants.
ZF also demonstrated technology that assists drivers in avoiding obstacles. In practice, this means that the car "helps" the driver when he has to suddenly turn the steering wheel to avoid a dangerous situation.
Motion sickness
In the area of comfort, ZF showed how improved motion control allows cars to keep rolling smoothly, even on rough surfaces. Called "The Flying Carpet 2.0," the system smoothes out bends, bumps in the road as well as potholes by combining active damping, braking and steering systems.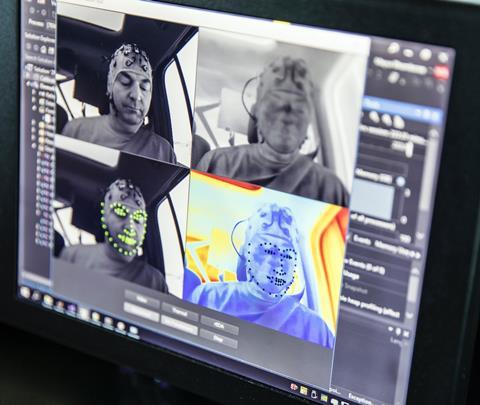 Passenger comfort can be further improved by countering the motion sickness that may occur in autonomous vehicles. Motion sickness is caused by a sensory mismatch between what people in a car see and feel.
Florian Dauth, an engineer focused on human centered vehicle motion control, said that 60% of passengers already are showing signs of motion sickness in cars today. "When mobility as a service (MaaS) takes off, this can become as much as 90%," he predicted.
ZF is working with neuro-technologists to develop an automotive-compatible system to address the discomfort many experts are worried about when it comes to autonomous vehicles. Said Torsten Gollewski, who is in charge of ZF's advanced engineering: "A really big issue in automated driving is motion sickness."