Volkswagen plans a pilot project that will use blockchain technology to gain greater transparency in its global supply chain.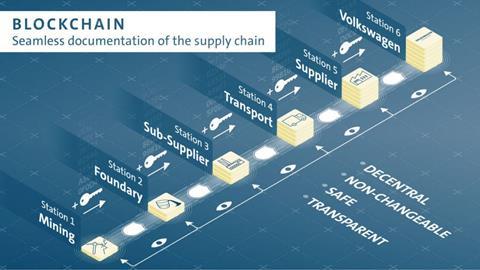 The German automotive group said it is working with blockchain specialist Minespider to start the project, which will allow it to trace raw materials back to their points of origin with the help of digital certificates.
The use of the blockchain distributed-ledger technology will help VW deal with a common industry problem: ensuring more transparency and security in the supply chain. The proprietary protocol developed by Minespider is based on a public blockchain.
"Digitalization provides important technological instruments that enable us to track the path of minerals and raw materials in cross-border supply chains in ever greater detail," Marco Philippi, head of strategy group procurement at VW, said in a press release.
The pilot project, which will kick off this month, will initially focus on lead. It will involve suppliers and sub-suppliers that deliver more than two thirds of the company's lead starter battery requirements.
In a subsequent phase, VW wants to use the technology to capture other raw materials and their supply chains.
Minespider became VW's partner of choice for the project following its successful participation in a "Hackathon for Supply Chain Transparency" organized by the carmaker in 2018.