Register for free to join our global community of digital leaders in the automotive IT and technology sector on our new website.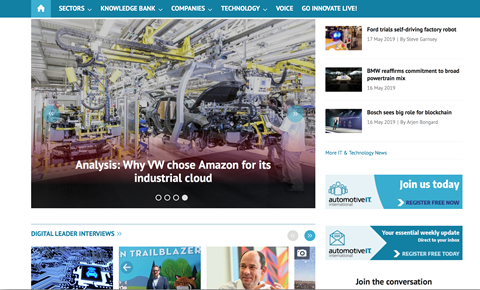 Thanks for visiting us at the newly launched automotiveIT.com, our enhanced online community for news, analysis and features on innovation and transformation trends in the changing world of mobility.
Those in the automotive space know it better than most: the technology and products we choose, and the services that we access most, are often those with the best digital user experience and interface. So is too, of course, with media platforms, from which we expect not only relevant, multi-faceted content, but also great design no matter which device we use, as well as the fastest and most insightful information, whenever we want it.
Our new site is a big improvement in such UX, and we think you'll enjoy digging into our coverage, interviews and events. You'll find a huge variety of key sector topics, from digital manufacturing, to customer experience, connected car and future mobility. Explore coverage of major and emerging technologies for automotive, such as AI, digital twins and augmented/virtual reality. And use our Knowledge Bank to find the in-depth insight and interviews into the key people and trends reshaping the industry.
automotiveIT.com is also a place to connect – with your fellow digital leaders in the automotive IT and technology industry, with key suppliers, partners and startups. You can do that through our content, through our events, including the new Go Innovate! Live series, as well as through Voice of the Industry, meanwhile, where you'll find insight from key technology and service providers. You'll see more features added over the coming weeks and months.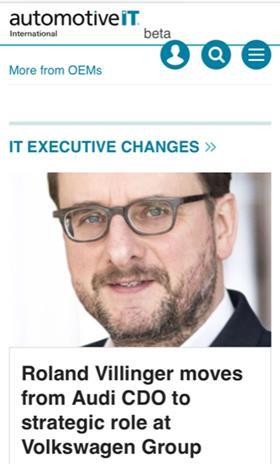 You'll benefit even more by registering for free to join the automotiveIT International community, which will give you access to our enewsletters and special digital editions, and allow you to engage more with fellow users, including commenting on articles. It will also help the site to provide you with the most tailored, targeted and relevant content.
You'll get access to more exclusive content, including more video and multimedia coming soon. You'll also receive special offers on products and events. Of course, you'll always have full control over your data preferences and how we communicate with you.
As ever, we strive to continuously improve our content, events and experiences, so don't hesitate to get in touch with us with your comments and ideas.
We also hope to see many of you in person at our first Go Innovate! Live conference this September 10-12that the Cobo Center in Detroit. You'll find much more about the event, topics and participants on our site in the coming weeks.
Christopher Ludwig
Editor-in-chief
christopher.ludwig@ultimamedia.com
Arjen Bongard
Editor
bongard_ext@automotiveit.com
Neemish Ladwa
Business director & publisher
neemish.ladwa@automotiveit.com