Jaguar Land Rover is testing whether artificial intelligence (AI) can automatically adapt the in-car environment to a driver's mood.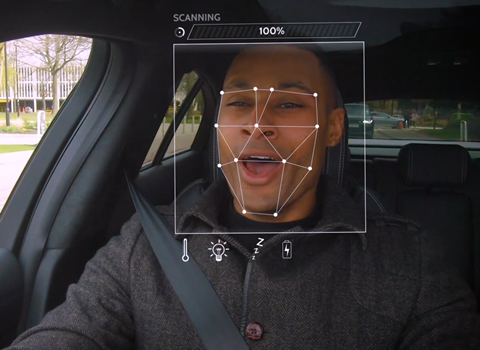 The technology uses a driver-facing camera and biometric sensors to assess that driver's mental state. Based on the findings, the car can then adjust cabin settings to improve a driver's wellbeing.
The British automaker cited reports that 74% of people admit to feeling stressed on any given day and it said automatic changes to the in-car environment could make drivers feel better.
Steve Iley, JLR's chief medical officer, said the company has conducted extensive research into car drivers' wellbeing. Using the results of that research, he said in a press release that, "we can make sure our customers remain comfortable, engaged and alert behind the wheel in all driving scenarios, even monotonous motorway journeys."
With the technology now being tested, ambient light settings, music selection and temperature controls are some of the functions that could be automatically adapted by the AI software, JLR said.
The company is also testing the technology for rear-seat passengers with a camera mounted in the headrest. There, the car could, for example, dim the lights if it detects that a passenger is tired.
JLR, like many of its competitors, is trialing various driver tracking technologies. Focus in the industry has, so far, been on systems that detect whether a driver is drowsy or distracted.