The premium carmaker is now offering smartphone-like OTA software upgrades, including for its in-vehicle personal assistant.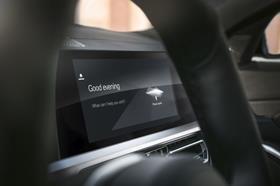 The remote software upgrades apply to BMW Group vehicle software in all vehicles with Operating System 7.0 everywhere that BMW ConnectedDrive sysems of apps and services is available.
The OTA upgrades offer vehicle-specific content and updates such as function extensions for driver assistance systems, such as active cruise control and side-collision protection. According to the company, future upgrades will allow customers to access more vehicle functions from the BMW ConnectedDrive Store, including more digital services. Depending on vehicle specifications, customers will also be able to use upgrades for functions in devices outside of the vehicles, such as via smartphone or tablets.
Customers will also be able to use the remote upgrade to activate the BMW Intelligent Personal Assistant for models such as the X5, 3 Series and 8 Series with BMW Operating System 7.0. In future the personal assistant will add even more features via OTA upgrades.
OTA upgrades have been an important target for many carmakers to keep the software in their vehicles up to date and secure. While Tesla has offered OTA updates for years, other brands have been slower to roll them out for security, safety and regulatory reasons. Now, other OEMs including GM and Ford are planning to offer such updates across a range of features. Besides Tesla, most OTAs up to now have focused largely on infotainment features.
Pieter Nota, BMW's board member for sales, brands and customer, told automotiveIT International that OTA updates would be an important part of improving customer experience and relationships with BMW.
BMW's IT and digital executives have set ambitous targets for increasing IT and software updates across the company. Earlier this, BMW CIO Klaus Straub told the automotiveIT Congress in Berlin that the company was eventually targeting up to 50 releases daily.