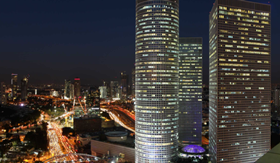 BMW plans to open a technology scouting office in Tel Aviv, focusing on new technologies and cooperation with regional startup companies.
The German premium car group will also look at opportunities to establish joint research projects with local universities.
" Tel Aviv has one of the fastest growing startup scenes in the world - especially in the important future fields for us such as autonomous driving or connectivity", BMW's R&D boss, Klaus Froehlich, said in a press release. "By establishing a presence in Tel Aviv, we will secure even faster access to the relevant trends and technologies, be it with startups or universities."
Israeli Economics Minister Eli Cohen said BMW's tech center, which is planned for mid-2019, underlines the role Israel's technology sector wants to play in the transformation of the global mobility sector.
BMW operates technology offices in high-tech clusters around the world, including in Silicon Valley, China, Japan and South Korea.
They are part of a global R&D network of more than 20 facilities across eight different countries.