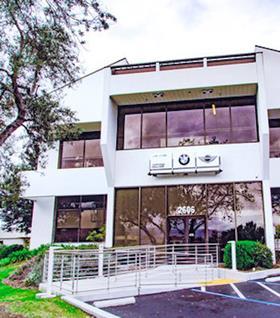 BMW's i Ventures capital fund, based in Mountain View, California [HQ pictured], is investing in two-year-old machine intelligence company Graphcore, based in Bristol, UK, and with offices in London, Oslo, Palo Alto and Beijing.
Graphcore is said to be developing a new kind of computer processor and software: its Intelligence Processing Unit (IPU) is purpose-designed for machine intelligence and is claimed to deliver speeds 10-100x faster than current hardware.
Tobias Jahn, BMW i Ventures principal, explained in a statement: "The versatility of Graphcore's IPU – which supports multiple machine learning techniques with high efficiency – is well-suited for a wide variety of applications from intelligent voice assistants to self-driving vehicles. With the flexibility to use the same processor in both a data center and a vehicle, Graphcore's IPU also presents the possibility of reductions in development times and complexity."
i Ventures is also investing in New York-based Claroty, founded in 2014, a developer of cybersecurity software for industrial control networks. Its platform of solutions is said to combine continuous monitoring for threats, malware and vulnerabilities with secure remote access, giving deep visibility: critical, given the increasing digitization of manufacturing facilities and supply chains. It already works with partners including Siemens, Schneider Electric and Rockwell Automation. Tobias Jahn said: "Our investment in Claroty is a clear signal that we are taking the need for industrial cybersecurity very seriously and recognize the tremendous growth potential in the sector."
Faurecia Ventures invests in ESP Consulting for in-car wellness solutions
Faurecia intends to use cognitive science to assess the human impact of technology, to optimize well-being in vehicle cockpits, and develop predictive and personalized use-cases. It has therefore made an investment in ESP Consulting, described as an 'innovative French lab'. David Degrange, VP for Cockpit of the Future, Faurecia, explained: "Through its expertise in gathering relevant data on vehicle occupants under real conditions, ESP Consulting will give Faurecia a credible scientific platform and greater insight into human factors. This will enable us to offer innovative wellness solutions designed primarily to improve postural comfort, diminish fatigue, reduce stress and eliminate motion sickness."
Jean-Bernard Fabre, ESP Consulting's founder and CEO, added: "The partnership with Faurecia is an incredible growth accelerator, which will allow us to expand our laboratory and facilitate our international deployment. This strategy will involve the construction of two very high-tech spaces: the biosensor-based driving simulator, fruit of our partnerships with racing teams, and an environmental chamber, a very unique device for studying human behaviour in specific climatic situations."
Toyota AI Ventures invests in Elementary Robotics start-up
Toyota AI Ventures, based in Los Altos, California, is taking a stake in robotic platform start-up Elementary Robotics, founded in 2017 and based in Pasadena. Its funding will accelerate the development of affordable robot assistants, and Elementary will receive feedback from the Toyota Research Institute (TRI).
Arye Barnehama, Elementary Robotics founder and CEO, said: "We value Toyota's expertise and share the company's belief that AI and robotics can improve the quality of human life. Our goal is to design affordable, intelligent robot assistants that are safe and easy to program, and we're thrilled to receive funding and support from Toyota AI Ventures as we continue our journey to build the next generation of robotics."