Aptiv, the new name for Delphi Automotive, has emerged after spinning off its powertrain division this month with a focus on enhanced computing power for driving features and connected-vehicle architectures.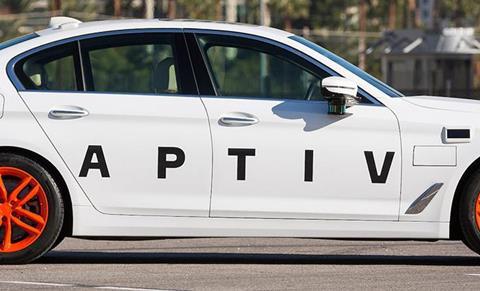 The company's top executives indicate that its ongoing investments and R&D in IT, data and cloud applications will be the lynchpin in its efforts to serve a changing mobility market. Michael Gassen, vice-president of sales and president of the Europe, Middle East, Africa and Russia region at Aptiv, said in a webcast press briefing that the newly named company would use its position in advanced driving and safety assistance systems to offer higher levels of autonomous driving, applications for which he thinks are just around the bend.
"We are already ready for level three autonomous driving today, and we see level four becoming more widely available between 2021 and 2024," he said.
Serge Lambermont, engineering director for automated mobility on demand, who spearheads the company autonomous driving efforts, highlighted the company's growing fleet of autonomous cars, which should reach 180 by the end of next year across locations including Singapore, Boston and Silicon Valley.
Creating a high-tech supplier
As of December 5th, the original Delphi became two automotive suppliers entirely concentrated on changing areas of mobility. It separated powertrain operations into a new company, now named Delphi Technologies, which will focus entirely on developing electric, hybrid and combustion engine systems, as well as the aftermarket. With revenues of around $4.5 billion, Delphi Technologies is now a separately listed company on the New York stock exchange.
Aptiv, meanwhile, has become a high-tech firm, offering advanced driving and assisted safety, autonomous driving – including radars, cameras and computer processing – and electronics architectures. Its current revenue is around $12 billion.
Aptiv is where much of the company's recent investments and acquisition of tech firms are now contained, many of which have been closely involved in autonomous driving software and connected car features. Two years ago, for example, then-Delphi acquired Control Tec, a provider of telematics and analytics software. That year it also acquired Pittsburgh-based autonomous and driver-assist software start-up Ottomatika.
Recent investments have also helped solidify the Aptiv's ambitions in cloud computing, cybersecurity and data management. Earlier this year, the company acquired Israeli firm, Movimento, a provider of over-the-air software updates and data management, while it also invested in data exchange platforms, such as Otonomo.
This past year also saw it acquired Boston-based autonomous driving company Nutonomy. Aptiv is running a number of autonomous driving pilots in the city with Nutonomy, and has also just announced that it was opening a new autonomous driving research centre in the city.
In September, the company announced that it would partner with BlackBerry QNX to run its autonomous driving platform, which it said would be available in 2019.

Building a connected architecture
Serge Lambermontnoted that it has said that these technology firms have helped Aptiv to enhance its cloud solutions for managing secure data links for vehicles. They are also essential to the company's vehicle architecture development and integration, which allow vehicles to be built with enhanced driving assistance and connectivity.
"To really connect cars, we have to start with the architecture and change it from the beginning to allow for total solutions, including connectivity and managing different computer platforms and infotainment systems," said Gasson.
He noted that cars now have as many as 100 different computers, and that their systems architectures needed to account for their management. Aptiv is now among the leaders in this area in terms of developing new technology and integrating systems providers for computer processing and control units.
For example, Aptiv developed the zFAS central driver assistance controller in the new Audi A8, which manages different processing domains to achieve level three autonomous driving features, and corresponds to the car's entire electronics architecture. Aptiv also supplies an integrated cockpit controller to Ferrari, which allows for multiple infotainment displays and more power.
In integrating such systems, Lambermont said that Aptiv has often had to help high performance computer firms to better understand the automotive industry and its requirements. "These high-speed computer providers were not used to the automotive market, and we actually were the first for many of them to guide them through the industry's high standards and regulatory requirements," he said.
Computer control system design and integration will also be essential in ensuring cybersecurity in a vehicle's cloud connection and data transfer, added Lambermont. "We have to design cybersecurity from the very beginning across a car's computers, cloud connection and operating system," he said.
To really connect cars, we have to start with the architecture and change it from the beginning to allow for total solutions, including connectivity and managing different computer platforms and infotainment systems

Michael Gassen, Aptiv
The need for speed
Michael Gasson believes that Aptiv's current infrastructure for developing advanced driving and connecting cars positions it to serve the coming growth in autonomous driving. As systems like the zFAS demonstrate, level three capability is now a reality, and the company is moving quickly to offer its autonomous driving operating system. By 2019, Gasson predicted there would already be commercial vehicle applications for such systems, for example in enclosed areas or closed loop transport loops.
The main barriers to rollout will not be technical, he said, but limits to how fast sensors can be built into infrastructure, or regulations can be adapted. There will also be limits to how fast autonomous driving can scale up, and thus bring down prices and development costs in key technology, such as lidar.
Despite those limits, companies like Aptiv have to act as fast as possible to speed up their own development and rollout of products, he said. Gaining such speed was at the heart of the recent restructuring.
"We need more speed to be able to respond to changes in mobility," he said. "The automotive industry has a lot of tradition, which is a good thing, but if it's not fast enough it can fall behind and lose out on opportunities."