Connectivity, autonomous driving, shared services and electric vehicles will combine to have a major impact on sales, aftersales and service operations in the automotive industry, according to a new study by consultants Deloitte.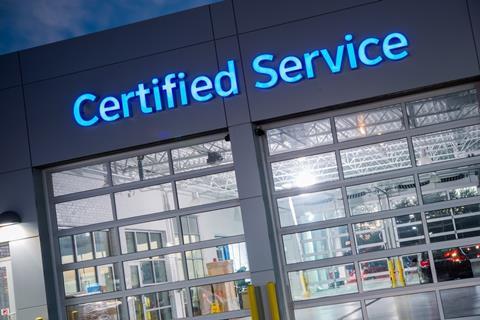 Based on projections for the German industry, Deloitte says spare parts, service and repair businesses will see a revenue decline of as much as 55% in the next 15 years. Profits will fall at a similar pace, according to the forecast.
The consultants say the main reason for the sharp drop is the coming of alternative powertrains. Electrically powered vehicles are likely to require less service and need to be repaired less frequently.
With projected EV sales representing 40% of the German market by 2035, compared with just a few percent today, Deloitte predicts the German service business of an average car manufacturer will plummet to 48 million euros a year from 300 million euros today. Spare parts sales will drop to 84 million euros by 2035 from 205 million euros.
"Vehicle manufacturers will have to prepare for this and reorient their sales and repair business toward new mobility," Deloitte partner Thomas Schiller said in a statement. "If they don't, a substantial part of their business will disappear."
Deloitte warns that automotive retail will have to make major structural adjustments. If independent mobility service providers move into position between car manufacturers and their customers, earnings derived from vehicle sales will drop 53% by 2035, the consultants predict.
Schiller urges automakers to step up direct contact with the end-users of their products. This would, for example, involve building more attractive inner-city locations to showcase vehicles and the construction of test drive and service centers on the outskirts of cities.
Said Schiller: "Despite a sales decline of 16%, car sales continues to be an attractive business."