Audi is embracing virtual reality (VR) and other digital technologies as it gets ready to build its first electric sedan, the e-tron GT.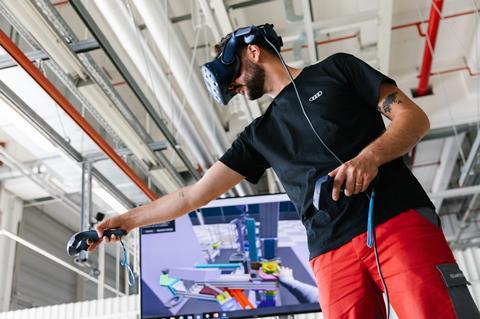 The premium car brand said it will use VR glasses and controllers to test all assembly processes for the e-tron GT, which will be built at the company's plant in Neckarsulm, Germany, starting in 2020.
"The Audi e-tron GT is the first car in the group to have all its assembly processes and the associated logistics processes tested without an actual prototype," said Markus Moinet, head of production planning processes at the plant.
It is also the first time a new vehicle built within the Volkswagen Group will not use an actual prototype. Audi is the premium brand of the VW Group.
Another first is the use of software developed in-house specifically for the planning process. Audi is running workshops using digital technology to streamline the planning for the e-tron GT production.
The new approach lets teams across the world collaborate easily and efficiently. At the moment, teams in Ingolstadt and at Audi's operations in San Jose Chiapa in Mexico are engaged in such cooperation, Audi said.
The technology may be rolled out across the VW Group, as the world's largest automotive group looks for new ways to boost efficiency and reduce costs. "Audi has assumed the role of brand leader with the development of the VR method," Moinot said in a press release.
To use the technology, Audi has had to make three-dimensional scans of its production halls and other buildings. The carmaker has acquired tailor-made software and hardware for this, working with a Munich startup to create the virtual copy it needs.
It then uses the data to plan the production process. The information can also be used to reconstruct equipment and infrastructure virtually.
The Audi e-tron GT will be built alongside the Audi R8 sports model from late 2020. Required construction work is currently underway at the R8 production facilities.
Audi showed the e-tron GT as a concept at the Los Angeles auto show in late 2018. At the Geneva show in March of this year it showed a concept version of a compact SUV, the e-tron Q4.
The first fully electric Audi, the e-tron Quattro SUV went into production this year.