Porsche is working a Berlin startup to test virtually how its cars can drive themselves to lifting platforms in the workshop.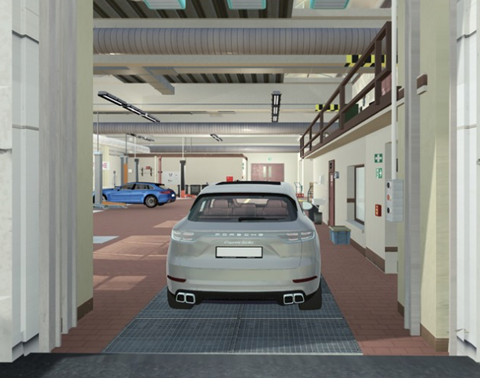 The sports car brand, part of the Volkswagen Group, is working with a Berlin-based startup called Kopernicus Automotive to make car movements in the workshop more efficient.
The aim of the project is to let cars drive themselves from their parking space to a lifting platform and back again. Mechanics can direct the cars using tablet PCs.
"Autonomous driving will revolutionize our road traffic in just a few years. However, we can already use the technological possibilities available today to make work processes even more effective and efficient," Alexander Haas, project manager for automated driving at the Porsche workshop, said in a press release.
Porsche and Kopernikus plan to build a test field at the carmaker's plant in Ludwigsburg, Germany. But, in the runup to the live test, they are first creating a virtual representation of the workshop environment, which will be used to train an artificial neural network.
This network will let the cars "learn" independently over more than 1 million kilometers of virtual driving. If all goes as planned, artificial intelligence will then be able to handle vehicle orientation, identify and localize objects and plan paths.
Porsche and Kopernicus have developed the technology as part of a collaboration within the so-called Startup Autobahn initiative.
Startup Autobahn is an innovation platform founded in 2017 to bring innovative startups in direct contact with German automotive companies. Porsche, Daimler, the University of Stuttgart, Hewlett Packard Enterprise, DXC Technology, ZF Friedrichshafen and chemicals maker BASF are among the companies involved in the initiative.