Amazon has ordered 100,000 electric delivery vans from Rivian, an electric-vehicle startup that is set to launch its first products in late 2020.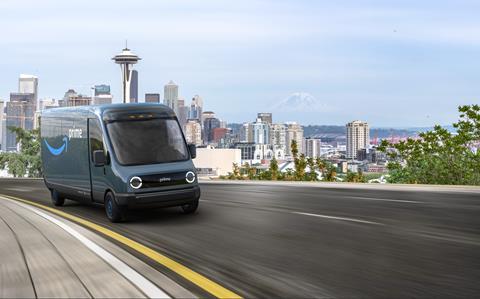 The order, which Amazon says is the biggest ever of electric delivery vehicles, is part of a strengthened commitment by the internet company to reduce the negative impact of its business on the global climate.
Reducing the carbon footprint of its package deliveries is part of a new pledge by Amazon to meet the goals of the Paris Agreement on carbon neutrality 10 years earlier than the 2050 deadline the global climate pact has set for achieving full decarbonization.
"We're done being in the middle of the herd on this issue—we've decided to use our size and scale to make a difference," Jeff Bezos, Amazon founder and CEO, said in a statement.
Amazon delivers more than 10 billion items a year and many of these packages reach end-customers with the help of diesel or gasoline-powered vans.
Amazon invested $440 million in Rivian earlier this year and, in April, Ford Motor took a $500 minority stake in the startup. Global automotive services group Cox Automotive this month made a $350 million equity investment in Rivian.
Ford plans to build an all-new battery-electric vehicle using the startup's skateboard platform
Rivian hasn't announced concrete plans to build electric delivery vehicles, but, following the Amazon announcement, it released a few pictures that show a van with the Amazon Prime logo on its side.
Amazon said it plans to use the vans for deliveries from 2021. The internet shopping giant wants to have 10,000 electric vans on the road from 2022 and plans to deploy all 100,000 by 2030.
"We've decided to use our size and scale to make a difference"

Amazon CEO Jeff Bezos
Once its electric fleet is fully operational, it will save 4 million metric tons of carbon a year, Amazon said.
Rivian's launch vehicles will be a five-passenger pickup truck, the R1T, and a seven-passenger SUV, the R1S. The company says the vehicles, which will come to market in late 2020, will have a fully electric driving range of up to 400 miles.
Two years ago, Amazon said it aimed to power its global infrastructure with 100% renewable energy. The company said this week that it wants to meet this goal by 2030.