Ford's European smart mobility boss, Sarah-Jayne Williams, explains how a last-mile delivery pilot project yielded several positive insights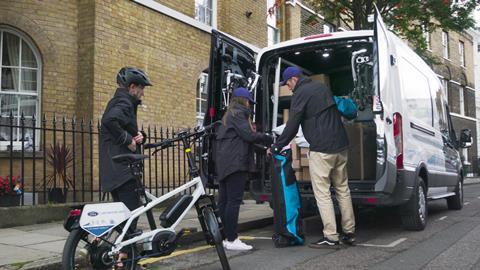 EINDHOVEN – When Sarah-Jayne Williams took over as European boss of Ford Motor's smart mobility division two years ago, she was impressed with the carmaker's global team of several thousand advanced data scientists.
"I was blown over not just by the scale of the team, but also by their depth of expertise," Williams told automotiveIT International at the recebt ITS Europe Congress in Eindhoven.
Williams, a former Bearing Point consultant, came to rely on Ford's ability to effectively use data as her team developed software to, in her words, "join up smart vehicles with a smart world."
Algorithms based on the analysis of vehicle data form the heart of many smart mobility projects. Ford recently completed a pilot project for one of a series of new initiatives to offer practical mobility solutions to real-world transportation problems. In this case, the company teamed up with delivery company Gnewt by Menzies to trial a new way of delivering packages in heavily congested London.
The reasoning is clear. Parcel deliveries in London currently require around 300,000 van trips each day. Those vans spend 9m hours a year clogging up roads in the city. And parcel deliveries are set to double in the next decade as more customers order online and expect to get their packages quickly.
"That creates significant challenges," Williams said, citing rising costs, falling air quality, increased congestion and unavoidable large delivery-time windows.
To address these challenges, Ford developed a cloud-based multimodal routing and logistics software called MoDe:Link, which, in the London pilot, routed delivery vans to central collection points. From there, the so-called 'last mile' of the delivery process was handled by pedestrian couriers transporting parcels in trolley bags.
"The hypothesis going into the pilot was to see whether you could take four out of every five delivery vans off the road," Williams said. "We were able to prove with the pilot that we could do that."
Williams said there were other positive outcomes from the trial, notably that couriers, many of whom worked other jobs as well, actually enjoyed their walking tours and using the Ford technology to optimize their routes.
Also, customers reported back that couriers delivering their packages were, in general, much less stressed than the normal van drivers, who habitually had to deal with congestion and were often forced to park illegally while unloading parcels. Said Williams: "The feedback was that customers were meeting relaxed workers rather than harassed drivers."
"The hypothesis going into the pilot was to see whether you could take four out of every five delivery vans off the road. We were able to prove with the pilot that we could do that."

Sarah-Jayne Williams, director of smart mobility, Ford of Europe
Ford is a leading seller of light commercial vehicles, but, with the London pilot, the company is demonstrating how traditional auto manufacturers are getting ready to play a role in their own disruption. Williams is sanguine about the changing business model, saying that it's better to join the mobility transformation head-on than to fight it.
Like many of its competitors, Ford is actively developing data-based projects to address urban congestion, air pollution and other problems mostly caused by the growth of passenger cars and trucks in increasingly urbanized environments.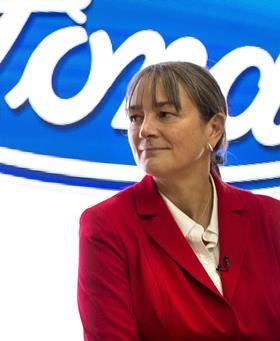 The company is working closely with cities to take data collected from commercial vehicles, combine them with information coming from city systems and use that combination to, for example, identify traffic safety hotspots and intersections where accidents are particularly likely to occur.
Ford also is counting on an increasingly diverse multi-modal transportation world – especially in cities – to address congestion and air pollution. Late last year, Ford Smart Mobility announced that it had acquired Spin, a San Francisco-based electric scooter-sharing company. Spin provides customers with an alternative for first- and last-mile transportation. Said Williams: "E-scooters offer a very clean way to move people around."
Williams participated in a panel discussion here about how cities can benefit from intelligent transport systems. She was one of a relatively small contingent of auto-industry executives speaking at the ITS Europe Congress.
Still, there was widespread agreement among the more than 3,000 conference participants that only a collaborative effort between automotive companies and other transportation stakeholders can be effective in addressing traffic challenges.
"When you talk about mobility, you're talking about issues that no car company can solve on its own," Williams said.
Ford in early 2018 launched an open, cloud-based mobility platform that is designed to run a transportation ecosystem bringing together service providers, personal vehicles, bicycles, pedestrians, mass transit systems and city infrastructure, including traffic lights and parking locations.
The carmaker announced in April that its platform would be powered by Amazon Web Services (AWS). It is open to other car companies. Said Williams: "You don't own a platform; It's about how you plug and play and how the jigsaw pieces fit together. That means working together with other people."