Magna will open a joint venture factory in China with BAIC to assembly electric vehicles and expand its contract vehicle engineering and manufacturing services.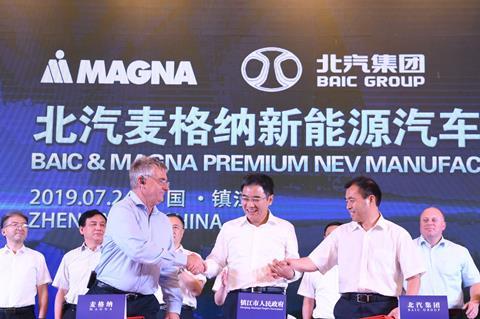 Magna has signed a framework joint venture agreement with China's BAIC Group together with the Zhenjiang government to build electric vehicles for BAIC and offer contract manufacturing services to other customers joint venture in China, the world's largest electric vehicle market. It will be Magna's first vehicle assembly plant outside Europe and further expand its electric vehicle engineering, development and production capabilities.
The JV agreement is pending regulatory approval and other closing conditions, is expected to close in the fourth quarter of 2019.BAIC, through its electric vehicle subsidiary, BJEV, will have a controlling stake in the joint venture.
The factory in Zhenjiang, in Jiangsu Province along the Yangtze River east of Nanjing, will have capacity for up to 180,000 vehicles per year and is expected to start production of electric vehicles in late 2020 with the BJEV Arcfox.
In 2018, Magna and BJEV announced they would develop a shared architecture to build EVs in China, followed by further plans to build vehicles together. Earlier this year, they opened an engineering center and electric vehicle test center in Zhenjiang.
According to Magna, the JV will leverage Magna's current engineering and manufacturing expertise with BAIC's local manufacturing, marketing and distribution footprint to support electric mobility in China. Magna, which is one of the world's largest automotive suppliers, also engineers and manufacturers vehicles through its Magna Steyr subsidiary. The Magna Steyr factory in Graz, Austria currently builds the electric Jaguar I-Pace, for example.
Magna has also been expanding in China, particularly around electric mobility. In 2017 it announced a joint-venture agreement with SAIC Motor subsidiary Huayu Automotive Systems to manufacture an electric-drive powertrain systems.
The supplier group also provides content for Chinese EV start-up Nio, including body frames and gearboxes for e-drive systems.
"Magna has proven experience building complete vehicles for customers," said Günther Apfalter, President of Magna Europe and Magna Steyr. "We are excited to work with BAIC to further strengthen Magna's e-mobility capability in the largest global market for new energy vehicles."
"BAIC's long-term strategy, an open and sharing philosophy, and a collaborative and innovative mindset leads us toward the top partners like Magna," General Manager of BAIC Group Mr. Zhang Xiyong said at the ceremony.
The joint venture will also offer EV contract manufacturing services to other OEMs in China, details of which are yet to be confirmed. BAIC has a joint ventures in China with both BMW and Daimler, both of which will be build electric vehicles and batteries for the Chinese market. Earlier this week, BAIC acquired a 5% stake in Daimler.