Ford Motor has signed a multi-year global agreement with Amazon Web Services to further develop its offering of cloud connectivity services and connected-car applications.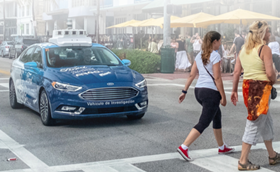 The carmaker said AWS will power the transportation and mobility platform developed by its wholly owned Autonomic subsidiary.
AWS was chosen for its global reach and the breadth and depth of services provided by the cloud provider, Ford said. Those include IoT, machine learning, analytics and compute services.
Ford's Transportation Mobility Cloud (TMC) is available to application developers as well as other automakers, which can use the platform to cost-efficiently develop new products and services.
The expanded cooperation with AWS will allow it to offer more and better services to Ford's vehicle and mobility customers, Ford Mobility President Marcy Klevorn said.
And AWS CEO Andy Jassy said the collaboration marks a new way of developing connected vehicle cloud services. "Autonomic customers will be able to bring innovative mobility services and differentiated customer experiences to their customers worldwide," he said in a press release.
Ford announced in January 2018 that it was acquiring Palo Alto-based Autonomic as part of a strategy to speed up development of new mobility services.