Electrification, driverless-car technology, environmental strategies and new business models are among the top priorities of the German auto industry, but executives, in town for a two-day meeting last week, emphasized vastly different priorities.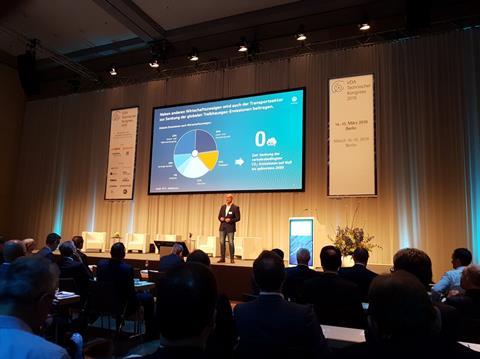 If there was one conclusion to be drawn from the VDA Technical Congress, it was that there is not one clear path toward cleaner, safer and affordable personal mobility. The conference is a gathering of automotive executives hosted each year by Germany's auto industry association, the VDA.
There was widespread agreement in Berlin that people will want personal mobility also in future, but how to realize this vision was the subject of debate.
Thomas Ulbrich, the Volkswagen brand's senior executive in charge of electric vehicles, echoed comments made by his boss, group CEO Herbert Diess, earlier this month, that an all-out focus on battery-electric vehicles is needed going forward.
Infrastructure push needed
"Climate change is the biggest challenge of our time and we as automotive manufacturers have a responsibility here," he said. He called on industry and policy makers alike to work together on a major electric vehicle offensive and said action is especially needed with regard to the charging infrastructure.
Diess himself wrote on LinkedIn over the weekend: "A commitment to an industrial policy focusing on one leading technology has in the past been rejected, also by Volkswagen. But this position is outdated."
Ulbrich said VW wants the industry to focus first and foremost on battery-electric vehicles. "Redirecting resources toward electric vehicles is the most efficient and best way to a sustainable reduction in CO2 emissions," he said.
VW plans to put less emphasis on technologies such as hybrid-electric powertrains, fuel cells, natural gas and efficient internal combustions. Instead, the world's largest carmaker plans to roll out 70 new fully electric models in the next nine years, while investing 30 billion euros until 2023 in EV technology.
The focus on battery-electric powertrains contrasts with the strategies of most other carmakers, which all plan a product portfolio that will, for the foreseeable future be powered by many different types of engines. That's also the vision of the German supplier industry.
The hybrid alternative
At the VDA Congress, ZF Friedrichshafen CEO Wolf-Henning Scheider reflected the general expectation among component and systems makers when he said that plug-in hybrids are the way to go in the near to medium term.
"Plug-in hybrids are an excellent solution for coming years," the head of the large automotive supplier group said. He noted that EVs continue to make up a tiny part of cars on the road today and cited continuing consumer reluctance to buy vehicles with a relatively short driving range.
Scheider noted that, worldwide, new EV registrations of 2.23 million units represented a mere 2.4% of the 94 million new cars sold in 2018.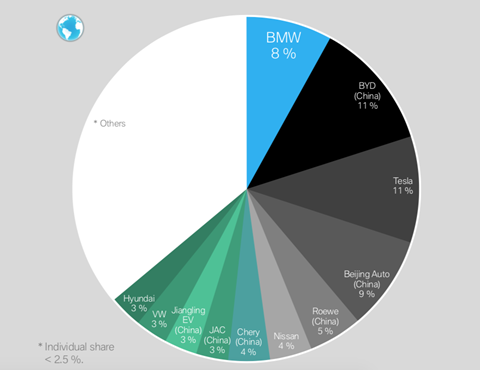 Joerg Stratmann, CEO of German supplier Mahle, also called for a a differentiated approach to powertrains. "The best solution for mobility that meets a particular need and takes into account the environment always depends on what it is used for," he said.
In urban environments, where distances are short, battery-electric vehicles may be a better transportation option than hybrids, Stratmann said. But for longer trips and for commercial vehicles traveling between cities, internal combustion engines and, in the long run, fuel cells may be best.
German auto manufacturers Daimler and BMW agree that it is too early to commit to one powertrain. Both are investing heavily in EVs and are planning to roll out a broad range of models in coming years. But, at the same time, they are planning for continued sales of cars with combustion engines or hybrid powertrains.
"I don't think electric mobility will establish itself at the same pace everywhere," BMW CEO Harald Krueger said in an interview with Sueddeutsche Zeitung this weekend. "That's why we continue to be open to all technologies," he told the German newspaper.
Krueger noted that the new version of the BMW X3, the company's mid-size SUV, will be available with either a combustion engine, a hybrid powertrain or an electric motor.