Fiat Chrysler (FCA) started building a new, dedicated assembly line for the production of its Fiat 500 battery-electric model, committing 700 million euros to the upgrade.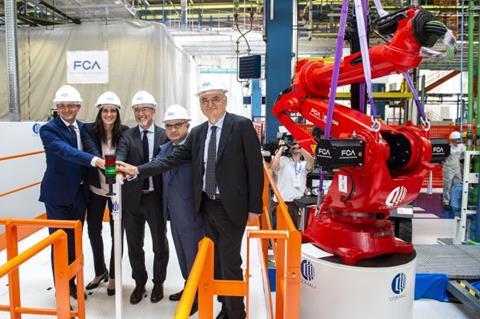 The Italian-American carmaker said the assembly line, located within its Mirafiori plant in Turin, will have an annual capacity of 80,000 units. Production is scheduled to start in the second quarter of 2020.
FCA said the dedicated platform installed at Mirafiori is specifically designed for electric cars. The Fiat 500 is the best-selling Fiat-brand vehicle and FCA hopes the electric version will spearhead a new era of innovation around the brand.
"The new Fiat 500 BEV will adopt cutting-edge solutions in a very different industrial and marketing context from just a few years ago," Pietro Gorlier, FCA COO for Europe, the Middle East and Africa (EMEA), said at a ceremony in Turin
The new Mirafiori body shop will have 200 robots, which will enable fully automated welding. Around 1,200 people will work on the production of the Fiat 500 BEV.
FCA recently established an electric mobility unit for its activities in EMEA. This division will be responsible for coordinating all activities related to electrification.
The carmaker has been less agressive than many of its competitors in announcing plans for electrified vehicles, but at the Geneva Auto Show in March it showed plug-in hybrid versions of its Jeep Renegade and Jeep Compass models. It also unveiled an electric version of its Fiat Ducato commercial vehicle.