General Motors has unveiled a new, digital platform that will prepare its vehicles for next-generation technologies.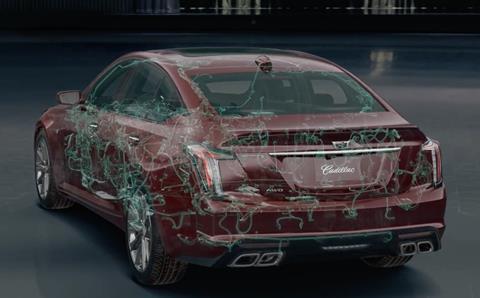 The electronic platform, which will debut on the 2020 Cadillac CT5, will be rolled out on most GM vehicles by 2023.
GM's platform can handle the requirements of electric vehicles, new active safety, infotainment and connectivity features and it will be central to the carmaker's 'Super Cruise' hands-free driver assistance feature, the carmaker said.
The new architecture can process up to 4.5 terabytes of data, which is five times as much as the group's current platform can manage.
It will also be capable of over-the-air updates and it will use ethernet cabling inside vehicles to allow connection speeds of 100 Mbps, 1 Gbps and 10Gbps.
"Our new digital vehicle platform and its eventual successors will underpin all our future innovations across a wide range of technological advancements, including EVs and expanded automated driving," GM President Mark Reuss said in a press release.
Cyber security
GM said cybersecurity is a key strength of its new architecture, with additional protection for hardware and software embedded in the platform.
The US carmaker was early with a structured approach to vehicle security. It has a dedicated Product Cybersecurity organization and has in place a 'bug bounty' program that relies on close cooperation with the research community to detect potential security problems.
(Editor's note: Read also our 2017 interview with Jeff Massimilla, GM's vice president global cybersecurity, at https://www.automotiveit.com/my-role-is-to-protect-the-vehicle-ecosystem/5197.article)
Check out GM's video outlining the software and IT benefits of this architecture: