Jaguar Land Rover is testing a system that would allow drivers and passengers in its cars to make and spend money using cryptocurrency.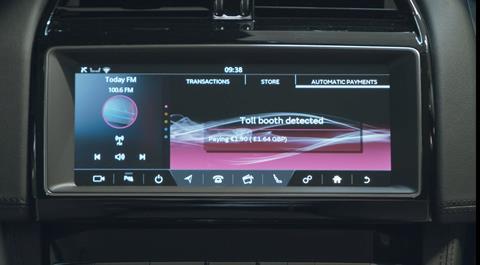 The system, which uses the so-called 'Smart Wallet' technology, lets users earn credits for sharing information about traffic and road conditions, for example. Credits can then be spent on paying for tolls, parking and battery charging.
JLR is partnering with the IOTA Foundation, which is developing next-generation blockchain distributed-ledger technology.
The UK carmaker said its cryptocurrency project is part of a strategy designed to achieve zero emissions, zero accidents and zero congestion. The vehicle can play a key role in gathering the relevant data to meet these goals, it said
"In the future an autonomous car could drive itself to a charging station, recharge and pay, while its owner could choose to participate in the sharing economy," JLR software architect Russell Vickers said in a press release.
The cryptocurrency technology is being trialed at JLR's new software engineering base in Shannon, Ireland. As part of the test, several vehicles, including the Jaguar F-PACE and Range Rover Velar, have been equipped with 'Smart Wallet' functionality.