Sabine Scheunert and her digitalONE team for sales and marketing IT are expanding customer touchpoints through apps and digital features, including vehicle-connected services through Mercedes me and new mobility services – all of it supported by an open architecture, artificial intelligence and cloud capabilities. 
Most established vehicle brands share a common challenge in adapting legacy, back-end IT systems and hardware to the capabilities of today's software. While interfaces and workarounds are common, systems that are decades old reach limits in flexibility, speed or user experience. And not all automotive IT departments have the resources or agility to respond quickly to problems, let alone to new demands and applications like those posed by artificial intelligence.
This hurdle can be particularly high for customer-facing apps, such as those in which users configure vehicles before purchase, or connect to media, access digital features and other car-based services. Because OEMs both collaborate and compete with nimble tech firms and media providers in areas like ride hailing, shared mobility, media streaming or ecommerce, these front-end systems have to meet high customer expectations. And with the huge opportunities for data and vehicle services, such apps and software could be central to future business models.
Few are more aware of this potential – and the risks of not keeping up – than Sabine Scheunert, vice president of digital & IT sales/marketing at Mercedes-Benz Cars. She oversees a global team of about 2,000 people – referred to collectively as digitalONE – covering digital products across the customer journey and sales processes, including systems and software for customer and dealer sales, finance, advertising, websites and aftersales, ecommerce, apps and AI assistants. Scheunert also heads the IT departments responsible for Mercedes me, an app connecting Mercedes customers' mobile devices to their vehicles as well as to the Mercedes me ecosystem of services. Altogether, the digtalONE teams manage around 1,500 applications. Her team is also involved in Daimler and BMW's shared mobility joint venture, for example by bringing together the variety of services and apps across the Mercedes-Benz digital customer ecosystem.
For Scheunert, who took up the role three years ago, the primary objective has been to move faster – in software development, product rollout, updates and customer response. That has required modernising and adapting Daimler's back-end enterprise IT infrastructure for sales and marketing to enable effective and user-friendly front ends.
"We are not a startup, and so to transform our business digitally we also need to transform back-end systems that might be 30 years old into a mode where they deliver data in a true agile working mode," says, Scheunert, talking to automotiveIT International at the Mercedes-Benz Digital House in central Stuttgart, a tech workshop space where a large share of her department is based.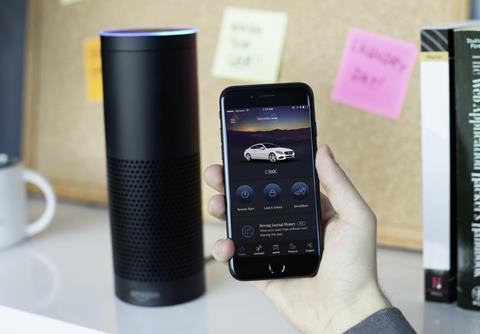 "If you think about all the front ends that we have in sales and marketing, whether for our web platform, or devices within the car, smartphones or laptops, it is clear that we need a new architecture."
Over the past two years, Daimler's global IT division has enabled a more flexible infrastructure based on APIs and microservices. Free and open source software is now the norm, with more focus on agile work methods. Sales and marketing have been delivering more frequent product prototypes and releases, including updated websites, digital commerce and Mercedes me services.
But to compete in this fast-changing space, Scheunert thinks Mercedes-Benz must move faster not only in relation to the automotive industry, but also to digital and tech upstarts.
She wants to make Mercedes me a "go-to platform", whether customers want to use real-time navigation and mapping, find parking spaces, charging points, sync their phones or view remote diagnostics. Increasingly, these features include online sale or service transactions – with pilots also underway in various global markets for new vehicle and aftermarket sales.
"We have made a lot of progress increasing our speed, and in making apps like Mercedes me a more vital ecosystem, but it is still not ready," admits Scheunert. "We have to continuously deliver new customer touchpoints, services and ideas.
"I am quite satisfied when I look at what our classic automotive competitors are doing," she adds. "But I am still afraid that our speed might not yet match new and unknown competitors from across the tech space who are going to vie for different parts of our business model."
To keep up with these changes, Scheunert thinks that there are areas in which Daimler and other brands will need to make significant leaps, such as cloud computing systems geared more towards mobility, as well as artificial intelligence.
An open source and agile architecture
Speed, scale and agility are important initiatives across Daimler corporate IT, with sales and marketing IT often on the sharp end of these projects. Daimler CIO Jan Brecht has championed the #TwiceAsFast initiative, which sets out to halve development times and to move from annual or quarterly software product releases and updates, to a weekly or even daily capability.
Other entities have also been accelerating projects in software development and in collaboration with the IT department, including Daimler's in-house software arm, Daimler TSS; the group's innovation and incubation arm, Lab1886; and Mercedes-Benz.io (Input/Output), which gathers and analyses customer feedback.
A new IT architecture based on microservices has been an essential element in increasing speed, and the company has developed many APIs that allow its core systems to communicate directly with apps and servers, a growth that has led to even more public access. The more API microservices are available, the more complete data sets are for future services.
For example, developers and architects can save a lot of time by searching and accessing the right APIs for the needed data, and they can also experiment and implement these microservices in a matter of hours. Mercedes-Benz/developers, a network of 2,000 global software developers, share APIs that are live and in progress. In 2018, the Mercedes-Benz platform handled more than 1 billion calls to its open APIs; in the first quarter of this year alone, there were more than 500m calls.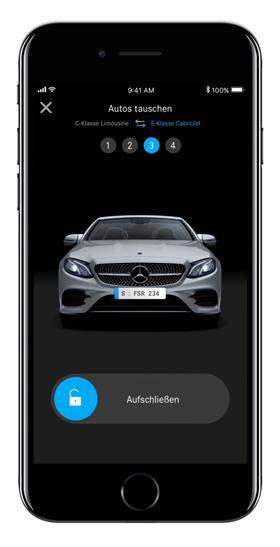 Sales and marketing IT is central to this new architecture and software development, and benefits by connecting new applications across devices.
"We didn't sundown our legacy systems, which are running on various mainframes or cloud servers. Instead, we focus on a true microservice architecture which allows us to connect to whatever front-end and device," Scheunert says.
For example, a user's specific vehicle configurations should no longer be interrupted between using a phone, tablet, laptop or what comes up on dealership systems – a common issue for many automotive companies. By 2022, Mercedes-Benz has targeted a complete end to any such online-to-offline disparities.
The company has also standardised IT providers across sales and marketing. Mercedes-Benz is using one system for its advertising buying, as well as a global Salesforce customer relationship management system. "We use multiple providers where processes are not the same, but whenever we can, we standardise application and supplier structures," says Scheunert.
A cultural shift to agile development and DevOps across IT has also been important, including open-source operating systems for coding, analytics and plug-ins. Self-managed and directed teams are also critical. For example, the Digital House is one of Daimler's largest 'swarm' organisations – decentralised groupings dedicated to specific topics, removed from traditional corporate hierarchies.
Such teams are leading the way in faster development times and in expanding Mercedes-Benz's digital reach to customers. For example, the web and digital commerce platform team, OneWeb, replaced the entire inventory of internet pages across Mercedes Benz cars, vans and trucks in fewer than 18 months, going live in 107 markets. More than 2,300 retailers in 31 markets use OneWeb as their online platform.
"Turning the front end that quickly was a record as we were able to standardise the products using the same microservices," says Scheunert.
The teams also work closely with partners and startups to launch products, integrating external software into its global IT architecture. For example, it launched the Mercedes-Benz EQ Ready app, which allows users to compare their actual journeys with usage in hybrid or electric vehicles, across 27 global markets. Underpinning the app is the JedAI SDK software stack from Israeli startup analytics firm Anagog, in which Daimler decided to invest after the success of the EQ Ready app. Other OEMs, including Porsche and Skoda, have also invested in the software firm.
Scheunert values investments like those in Anagog for access to software as well as learning new work cultures. In Tel Aviv, staff from Mercedes-Benz work closely with Anagog in "startup mode".
"I love working with them. It was a good financial decision to invest, not only for technology to build minimum viable products or pilots, but also to bring our teams together and benefit from new ways of working on both sides," she says.
Virtual reality check
Augmented and virtual reality is gaining use across the automotive industry, not least in vehicle technology like heads-up displays and virtual assistants. Manufacturers increasingly use the technology for simulations in testing and design, and to assist production tasks. AR/VR is also becoming more important in sales and marketing.
Mercedes-Benz deploys the technology in launch and marketing campaigns. Customers pre-configure, for example, the new A-Class in any combination and view it in AR using the company's cAR app. Configurators and simulators have also been used in the company's global Mercedes me experience centres in major cities like Beijing and Munich.
The company recently replaced paper manuals in some markets with an AR-based app, Ask Mercedes, in which owners can scan the interior or exterior of their vehicles to call up details on specific features, or ask questions to an AI-based chatbox.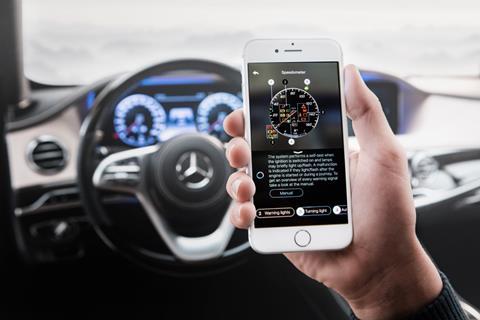 Sabine Scheunert sees more opportunities to use AR/VR in the sales process, including more detailed online vehicle viewing and even test drives, as well as for vehicle servicing. However, such tools should be based on customer needs and experience, not for technology's sake. Customers often still want to touch and drive a product before making a final decision, for example, which might limit the true use of VR-based driving apps.
"We don't try to introduce technology to customers just to test it, but because we see a pain point that it could solve," she says.
It is similar for other technology. Scheunert thinks that blockchain, which Daimler has begun to use in parts of the supply chain and purchasing processes, may eventually have an important role in future digital transactions, as well as how advertising is displayed. But that will become more of a focus as it solves real problems for customers.
Expanding digital customer touchpoints
Increasing the pace of app and service development is important to the company's digital mobility and commerce strategy. "Our OneWeb technology allows us to provide new customer touchpoints in ways that we couldn't before," says Scheunert.
The IT teams have also introduced new digital marketplaces, including those for buying or extending Mercedes me Connect services. In some markets, customers can use the app to arrange vehicle servicing appointments, or order replacement tires. In major cities in China, for example, tires can even be shipped to direct locations, an initiative that has led to significant sales increases.
Scheunert thinks online service and parts ordering will grow in the aftermarket, including vehicle diagnostics and predictive maintenance. Mercedes-Benz already has an online web portal for dealers and distributors to order parts, but this year it started trialling an open portal in Canada where customers can order directly, and choose to ship to an address of their choosing, including free next-day shipping for orders over C$75 ($55.50), or arrange pickup at a local dealership.
"We are testing in different markets before we look to a global rollout," she says.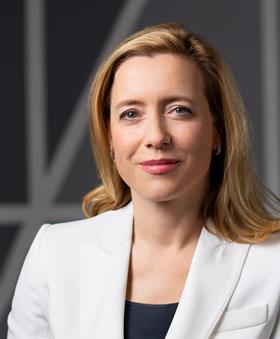 Mercedes-Benz is also expanding online vehicle sales channels. Already, customers can use Mercedes me and other web pages to find used car stores, and complete much of the transaction online. Recently, the company has increased the exposure of new vehicles across its web channels, allowing customers to connect directly to dealer inventories. "The digital inventory is helping to build new relationships between customers and dealers," says Scheunert.
The carmaker is increasing the capability for complete online new vehicle sales. This year, it began a trial in South Africa for online inventory and pricing, with the ability to carry out the entire transaction online. While Scheunert won't yet reveal how many vehicles it has so far sold this way, she points to important user feedback, including on pricing processes and digital tools.
"We are learning a lot because providing a seamless online-to-offline journey is a huge transition phase. An online sales model impacts your model and packaging offering, requires full transparency on pricing, and close cooperation with dealers and their systems," she says.
As with the aftermarket pilot in Canada, such partnerships are important to demonstrate to dealers that new business models can benefit both sides. "If the customer starts to benefit, then the brand and the dealer organisation will get something out of it, too," she says.
Keeping up with cloud and AI
Sabine Scheunert thinks AI and cloud computing will be critical for sales and marketing in the years ahead. But she sees shortcomings that could become existential threats if Daimler and other firms don't act.
Cloud is highly strategic for Daimler. Two years ago, it transferred its on-premise data storage to Microsoft Azure, where it uses data analytics tools to for operations from production to purchasing, and is building AI capabilities. Daimler IT, Daimler TSS and other entities are also working with Azure to develop a hybrid cloud for enterprise operations.
Daimler works further with other providers including Amazon Web Services, Google Cloud and Alibaba in China on infotainment and telematics applications. Last year, Mercedes-Benz established a cloud architecture team in Seattle, Washington to further develop cloud capabilities. Scheunert suggests there is further work to do in establishing a cloud for mobility. She provides no details yet, but indicates that Daimler teams are evaluating several options.
"In Europe, I think many companies and governments underestimate what will be necessary to develop and expand AI. We have a long way to go."

Sabine Scheunert, Mercedes-Benz Cars
Scheunert also thinks the automotive industry has much further to go in gaining benefits from AI – and that Europe especially could be at risk of falling behind.
AI is already a growing part of customer experiences for Mercedes-Benz, such as voice assistant in the new MBUX. It is increasingly built into marketing platforms, such as for suggesting best offers or upgrades to customers. AI-based chatboxes feature across virtually all website pages and the Ask Mercedes virtual manual.
But Scheunert has seen a faster development for AI elsewhere. In the US, and especially in China, where she was director of Citroën, investments around AI far surpass what she sees in Germany and Europe. Daimler is able to make use of its global IT workforce, including in China, Silicon Valley, Tel Aviv and Singapore, but she wants more to happen in Europe, especially for mobility.
"In Europe, I think many companies and governments underestimate what will be necessary to develop and expand AI. We have a long way to go."
Mobility with meaning
Scheunert is above all an enthusiastic promoter of digital transformation for mobility, including speaking at digital events and posting on social media. She emphasises that working in software and IT will help determine the future not only of how people use transport, but how the industry can reduce or eliminate carbon emissions, traffic and accidents. Ultimately, IT will help reshape infrastructure, cities and society.
This purpose – articulated across Daimler as 'First move the world' – can be a significant pull factor for recruiting IT specialists during an ongoing 'war for talent' in the tech space, she says. The company has launched a campaign, #NextBigThing to highlight the 'meaning' of working in IT, as well as the opportunity.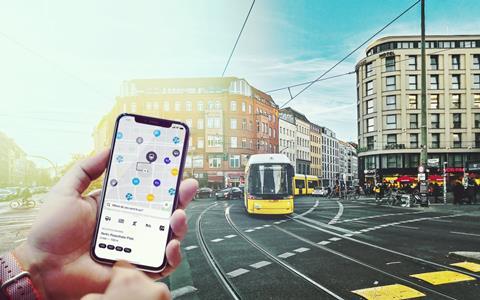 "We are in the midst of the biggest transformation that humans have experienced with changing mobility. I don't believe that I am overestimating," she says. "IT in the heart of that process."
Despite economic uncertainty in various markets, Daimler is still hiring and expanding in IT, whether for data scientists, architects, security and cloud specialists. For Scheunert, expanding and integrating these teams is essential to developing products faster, especially in sharing common architecture and coding.
"We can still benefit more from our global IT teams. Code will go around the world. Copying code is cool – sharing code, microservices and software [across our teams and partners] is something to be proud of. It will push us to a more dynamic tool chain for CI/CD [continuous integration and continuous delivery]," she says.
"But it is a topic that makes me unrestful, because in Europe we are still moving too slowly," she adds. "I hope that in a few years, I am more comfortable with our speed."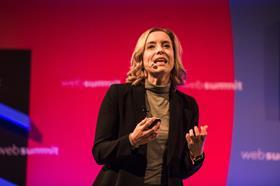 Sabine Scheunert: A career built on customer strategy and IT
BMW Group
1998-2004 Various roles including communications manager for Mini and product manager
2004-2006 Head of strategic planning for sales and marketing, BMW France
2006-2010 General Manager marketing, Central Eastern Europe
Groupe PSA
2010-2015 Director of CRM
2015-2016 Director, Citroën China; vice managing director, Dongfeng Peugeot Citroën Automobile
Daimler
2016-present Vice-president digital and IT sales and marketing, Mercedes-Benz Cars
Daimler in focus: Development speed, open architecture and connecting with customers
1

2

Currently reading

Mercedes-Benz wants to become your digital one and only

3

4

5