Ola Kaellenius, Daimler's new CEO will have to prove that he has the right skillset to run the world's biggest premium car maker and move at digital speed to transform the company into a mobility services provider and one that excels at developing software.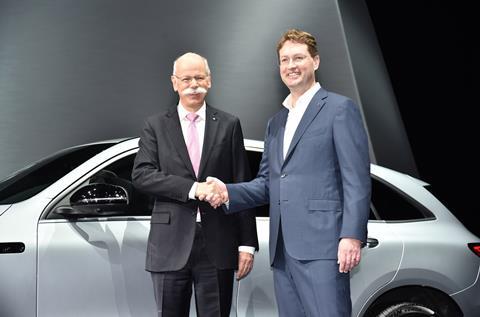 On the one hand, Ola Kaellenius, the new Daimler CEO, is different from most of the other heads of car manufacturers. That is because he is not an engineer by training.
On the other hand, Kaellenius, who turns 50 next month, is a self-confessed 'car guy', almost a prerequisite for surviving in the automotive industry to date.
Now, the new CEO will have to prove that he has the right skillset to run the world's biggest premium car maker, transform the company into a mobility services provider, force the adoption of a digital mindset and do all that at a speed previously unheard of in the automotive industry.
Kaellenius, a Swede who has been with Daimler since 1995, was handed the reins of the German premium car group on May 22 after serving as board member for Mercedes-Benz's research and development division. He succeeds Dieter Zetsche, who has run the company since 2006 and is, after a suitable cooling-off period, slated to become head of the Daimler supervisory board. Markus Schäfer, who had been member of the divisional board for production and supply chain at Mercedes-Benz Cars, has succeeded Kaellenius as board member for R&D. The succession plan was confirmed last year.
Kaellenius knows a lot about Daimler. He joined the carmaker's management training program in 1993, worked in procurement, headed various engine units, spent time in the US, was in charge of Mercedes-Benz sales and marketing and later in R&D operations.
"With Ola Kaellenius, we are appointing a recognized, internationally experienced and successful executive from within the group, who can also inspire people for a cause," Zetsche said at the group's annual meeting this month.
The new CEO studied finance and accounting and holds a master's degree in international management from the University of St. Gallen in Switzerland. The lack of an engineering degree doesn't seem to have been a problem as he moved up the ranks. Now, after thriving for decades in a company focused on powertrain performance, handling characteristics and styling, Kaellenius will be steering Daimler into an era where other things are set to matter more.
From old world to new mobility
Daimler's core Mercedes-Benz brand, like most other car marques, is transitioning from the old world of automotive ownership, into a new mobility era, where the focus is on relatively novel concepts such as electric and sustainable powertrains, autonomous driving technology, software-driven functions, as well as sharing and connected services.
That major disruption to the more-than-100-year-old business models that have prevailed in the car industry will mean fundamental changes to auto manufacturers' organizations and businesses. Zetsche told shareholders that Daimler has embarked on the greatest change in its history. "This transformation is in full swing and it encompasses our products and technologies as well as our business model and corporate culture," he said,
As costs rise and revenue from new businesses hasn't kicked in yet, Kaellenius is reported to already be planning a savings program that could include a reduction of the work force. Daimler is facing high expenditures for development work on its electrification program, while the coming of strict new European emissions standards will require additional big investments.
Kaellenius has already made clear that sustainability is going to be one of the guiding principles of his strategy going forward. Mercedes-Benz has an ambitious electric-vehicle rollout plan for the coming years.
In other new business areas, Daimler is also on track. On the sharing front, the new CEO inherits from his predecessor a well-positioned global car-sharing joint venture with rival premium brand BMW, the combined existing customer base for which is around 60m people.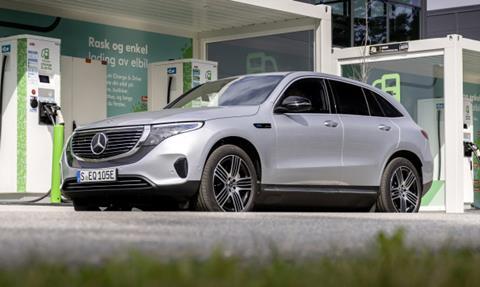 A new breed of automotive CEOs
Daimler's CEO change is one of several that have taken place in the past two years across the automotive industry. Thierry Bollore recently took over from Carlos Ghosn at Renault, Mike Manley succeeded Sergio Marchionne at Fiat Chrysler Automobiles and Herbert Diess replaced Matthias Mueller at Volkswagen Group. Earlier, Jim Hackettt took over as CEO of Ford Motor in 2017 and Mary Barra became CEO of General Motors in 2014..
Though Kaellenius joins Hackett and Bollore as top executives without an engineering background, most automotive CEOs still are engineers. Critics of the auto industry's slow pace of change in an increasingly digital environment have said Daimler should have considered appointing a CEO from the high-tech industry; or, it could have selected a top boss with more digital experience gained in another customer-facing industry.
Carmakers BMW and Renault, for example, did look outside for executives to run their sales and marketing operations, in a tacit admission that some cross-fertilization will do the rapidly changing auto industry good.
At BMW, Pieter Nota came from electronics group Philips to head the premium car group's sales and marketing, while Renault late last year appointed Unilever executive Francois Renard to head its global marketing. Renault also appointed Frederic Vincent, who came from the television industry, to the post of CIO. Vincent recently joined Renault's Executive Committee.
But even today, with cars and trucks quickly becoming integral parts of the Internet of Things (IoT), there are hardly any trained software experts in the top management echelons of the automotive industry. That's slightly disconcerting at a time when much of the talk in automotive boardrooms is about computing power, sensor fusion, over-the-air updates and the like.
It is not at all certain that an Amazon or Google or Microsoft executive would be best placed to turn a traditional automaker into a successful new mobility player. But it would probably be beneficial if some of that talent would be coopted in the top management ranks to help steer what is very much a digitally driven automotive transformation.
Kaellenius is not a software expert, nor is he an engineer, but in his various roles at Daimler, he has proven that he has the versatility and open-mindedness to deal with transformational issues ranging from powertrains to sales to the development of future technologies,
He'll need that flexibility to position Daimler for success in a mobility world where market requirements change quickly and where the exact shape of things to come is yet to be determined.
Daimler in focus: Development speed, open architecture and connecting with customers
1

2

3

4

5

Currently reading

News analysis: Daimler's new CEO must move fast with transformation