Former Volkswagen Group CDO Johann Jungwirth is leaving the German carmaker, according to a report in the newspaper Welt Am Sonntag.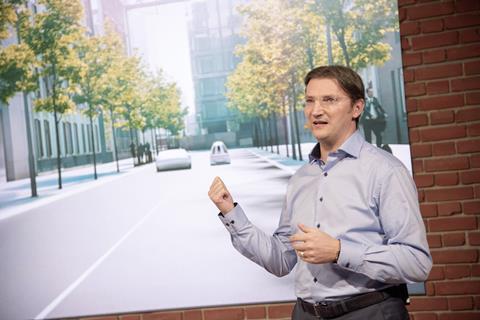 Jungwirth, generally known as 'JJ,' for a while was the face of VW's digital transformation, tirelessly promoting the car company's move from a traditional automaker to a new mobility service provider.
But Jungwirth, who since August 2018 has served as executive vice president of mobility services at Volkswagen's American division, apparently disagreed with VW Group CEO Herbert Diess on the company's strategic priorities.
According to Welt am Sonntag, Jungwirth's departure also has to do with a change in the way the company approaches autonomous driving. According to the newspaper, Jungwirth was eager to deepen ties between VW and driverless-car specialist Aurora, while VW prioritized other avenues. The German carmaker is now reported to be close to working together with Ford autonomous affiliate Argo AI.
In general, Jungwirth promoted a vision that included a quick move toward full autonomous driving, whereas today, most automakers see a more limited application of so-called Level 5 or full autonomy.
Jungwirth became CDO at VW Group in 2015, leaving Apple in Silicon Valley to return to the auto industry as the main architect of VW's digital transformation. Earlier in his career he had worked at premium car group Daimler.
At VW, Jungwirth, among other things, built the Volkswagen Future Center outside Berlin, where the brand's autonomous "Sedric" mobiity study was developed.
VW declined to comment on the Welt am Sonntag report, but, if confirmed, Jungwirth's departure represents a continuation of a trend that has seen many digital executives join and then leave the auto industry again after only a few years.
At BMW, Jens Monsees, its head of digitalization, recently moved on to become CEO of Australian advertising company WPP AUNZ. He joined the premium car maker from Google in 2016.
Earlier this year, Dieter May, head of digital products and services at BMW, left the company after five years. He came from Nokia in 2014 and departed from BMW to become head of Osram Opto Semiconductors.
Thilo Koslowski recently left Porsche, where he was CDO and head of Porsche Digital. Before joining Porsche, he was a well known Silicon Valley-based analyst who worked for consultants and market researchers Gartner in California. Koslowski joined Porsche in 2016.
And at the Renault-Nissan Alliance, Ogi Redzic, a Nokia and Here executive, was recruited in 2016 to head mobility services for the two carmakers. He lasted two years and seven months in the job, before jumping to Caterpillar.
Renault's French competitor PSA Group also had a relatively quick change in the CDO role two years ago. The carmaker recruited Yahoo executive Brigitte Cantaloube, who started as CDO at the beginning of 2016, only to be replaced by company insider Christophe Rauturier two years later.