Markus Ehrle, senior vice president enterprise business at Salesforce Germany, speaks to automotiveIT International about the Audi e-tron project, digitalization in the manufacturing industry and the role of the software company in improving customer service.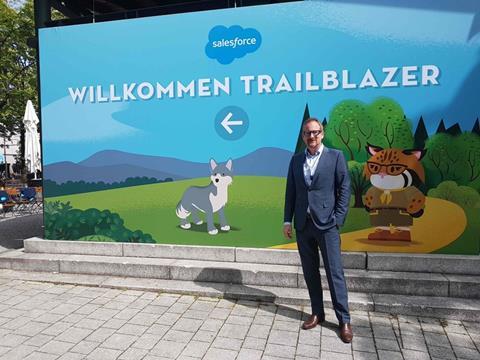 Audi's first fully electric production vehicle, the e-tron, not only introduces a new powertrain, but also offers customers an "over-the-air" option to add equipment or services.
The premium brand's "Functions-on-Demand" feature, which is built on the Salesforce Marketing Cloud, lets customers add functions either temporarily or permanently.
It also gives Audi direct insight into the wishes of its customers, allowing the carmaker to better cater to changing user requirements. "The e-tron lets you personalize your car so it is exactly the way you like it," Audi CRM manager Stefanie Paetow said at a Salesforce customer event in Munich last week.
Audi worked with Salesforce and consultants from Capgemini to implement Functions-on-Demand in the e-tron.
automotiveIT: How important is the Audi e-tron project for Salesforce?
Markus Ehrle: Our platform is capable of meeting customer expectations. We function as an enabler for Audi, which can bring many new services to market this way. Connectivity is ever more important.
Where do we stand today with the digitalization of the automotive industry?
E-commerce and its digitalization path started around 2000 and now, 20 years later, the customer experience has become the driving force. It will mature in the next 10-to-15 years and then there will be another wave. We accompany the digitalization transformation all the way.
Who is your main point of contact at an automotive company?
Different people. Many companies recognize that the customer experience is not just an IT issue. New business models go hand in hand with digitalization. At no time in history have business and IT been as closely connected as today.
How can a company using your platform determine which functions are most relevant for its own customers?
In the cloud, that has become very simple. We can see which functions are used by customers and that's why digitalization is so important for automakers. For the first time, they can see which functions are actually used by people. That makes it easy to determine that, for example, no-one uses a particular function. That then means it doesn't have to be developed further.
How important is artificial intelligence in the platform and for a customer like Audi?
AI is a central component of the Salesforce platform. The platform can analyze vehicle data or production data. It can recognize patterns and make recommendations, for example in the area of service requests, or possible maintenance solutions. Or, in a different context, it can recommend a particular hotel. Customer satisfaction improves when the information gets better and, contrary to your average call center, AI is always available and can provide a solution faster.
The Salesforce platform – and the car – need data to meet customer demands. At the same time, many customers are hesitant to offer up too many personal data. How do you approach data privacy concerns?
Just like you don't leave your wallet on the table, you need to be sensitive about what you do with your personal data and who you give them too. Companies that process data have to be transparent in how they use the information and they have to build trust. And third, you need regulation and rules on how to handle data. At Salesforce, we're very transparent, with all data held in one place and everything is audited and encrypted.
You've been with Salesforce for eight years. How has your interaction with customers changed during that time?
Issues such as cloud computing and the security of data in the cloud were a major topic eight years ago, but now are no longer on the table. Second, almost all companies now understand that they have to offer good services to their customers. And, from the Salesforce point of view, we are especially happy that we no longer need to explain that we are a reliable business partner that handles data responsibly. We are no longer talking to companies about deploying technology, but we are talking about deploying technology in the context of the customer experience.