Seat's car plant in Martorell, Spain, received its first parts delivery by drone Wednesday, as it works to improve efficiency in its manufacturing operations.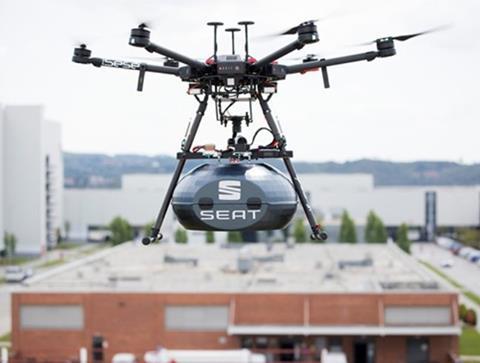 "Today's flight is the first step in transforming the supply chain in the automotive industry," Seat's production and logistics boss, Christian Vollmer, said in a press release. "Delivery using drones is going to revolutionise logistics."
The drone made its way from a nearby logistics center run by Grupo Sese to the Spanish car brand's plant in Martorell, outside Barcelona. Drones will continue to deliver steering wheels and airbags to the plant several times a day.
The deliveries are still in the pilot phase and they are being supervised by the Spanish Aviation Safety and Security Agency (AESA).
Seat said using drones will improve flexibility in production and make just-in-time parts deliveries more reliable. The 2km distance between Martorell and the logistics center is regularly covered by trucks, which takes 90 minutes. The drones, by contrast, can make the delivery in 15 minutes.
"It will reduce delivery time by 80%," Vollmer said, adding that drone technology will make operations "more efficient, agile and competitive, as well as much more sustainable."
The drone generates significantly lower CO2 emissions than trucks and its batteries are recharged using renewable energy, Seat said.
The Seat brand, which is part of the Volkswagen Group, is digitizing its manufacturing operations to build cars in so-called "smart factories." The company is developing and applying a range of digital tools to achieve this goal.
In the supply chain, Seat plans to use more simulation tools and deploy smart picking and autonomous navigation systems. It also has introduced big data tools and artificial intelligence to manage its supply chain in real time.