The group has committed to modernising IT systems and increasing digital skills as part of a plan that could eventually shed thousands of roles across the Volkswagen brand and component divisions.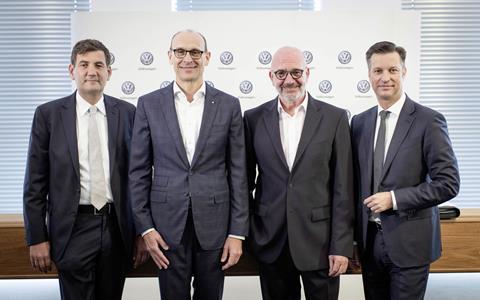 The company's board of management and works council have agreed a 'digital transformation roadmap' that clears the way for the carmaker to modernize its IT systems and hire up to 2,000 more digital staff, whilst eliminating up to 4,000 jobs made redundant by digitalization, process or organizational efficiencies.
The digital strategy is in addition the group's 'Pact for the Future', which set targets to improve productivity in German plants by 25% by 2020, as well as eliminating redundant roles and creating new ones in areas like electric drives, battery cells and software development.
In the new agreement, Volkswagen Group is set to invests €4 billion ($4.5 billion) by 2023 in digitalization, including in SAP 4/Hana, an updated, cloud-based enterprise resource planning system that covers many functions. The carmaker will also invest in systems focused on improving administrative applications, including a new purchasing system and standard human resources applications.
Further investments have also been agreed in production automation with the goal of achieving productivity gains in manufacturing of 5% per year through 2023.
Volkswagen Group has already announced major developments of its overall IT architecture, including the creation of both a dedicated mobility cloud with Microsoft, and a production cloud with Amazon Web Services.
The company expects up to 2,000 new jobs during this period in IT and software-related areas across business functions in the group, Volkswagen brand and components. The jobs are in addition to 1,000 IT jobs already committed in the Pact for the Future, and will mainly be at the group's headquarters in Wolfsburg, where the company is building more agile workspace.
Consequently, the company has revealed that it could eliminate up to 4,000 jobs in non-production units at Volkswagen's passenger car, component and Saxony units over the coming four years, mainly through non-replacement of retiring or departing workers. The expectation is that these roles will no longer be needed thanks to the automation of manual tasks and more agile working methods, according to Volkswagen. Working groups will formulate the concrete definition of these tasks by the end of August 2019. Partial retirement will also be offered to staff in production and non-production units born between 1962 and 1964.
Volkswagen digital plan up to 2023
Up to €4 billion in digital tools and modern IT
At least 2,000 new digital jobs
Up to 4,000 non-production jobs could be shed
Partial retirement options for employees born between 1962 and 1964
€60m increase in training to €160m
"We are laying the sustainable foundation for making the company fit for the digital era," said Ralf Brandstätter, chief operating officer of the Volkswagen brand. "We are accumulating new digital expertise, and making all areas of our organization faster, leaner and more competitive. At the same time, we are creating new, modern digital and agile jobs and improving our productivity. 'New Volkswagen' is becoming more tangible for our employees.
"If we have to eliminate jobs as a result of digitalization we are doing so along the demographic curve in the most socially responsible manner possible," he said.
To help staff transition to new digital skills, the company is also increasing its training budget by €60m to a total of €160m. According to Gunnar Kilian, board member for human resources, the increase will include setting up an online university, strengthening learning via online platforms and adapting vocational training. Investment commitments amounting to €8.5m between 2019 and 2021 have also been given for electric and IT labs as well as project workshops at Volkswagen AG's six locations.
For the component unit, the new jobs and IT systems will mainly be based around the division taking on more in-house responsibility for engineering and building electric vehicle powertrains and batteries. "Going forward, we will be taking responsibility for battery cells and battery systems through electric drives to charging infrastructure and recycling – for that we need process digitalization, greater software expertise and lean and agile steering of our worldwide component activities," said Thomas Schmall, CEO of Volkswagen Group Components.